Buckets, Orange Tree Theatre
Wednesday 3rd June 2015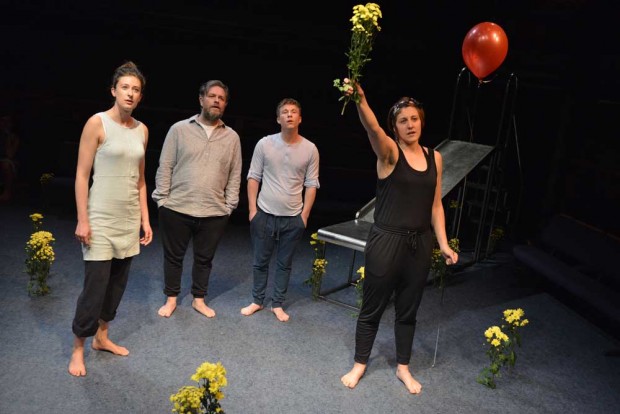 On stage, time is always running out. However long the play, the end is always heading towards you. There is a constant sense of movement towards the curtain call. The end. Ditto for life. Our earthly span is always being eroded on its way to death; each of us is travelling the same road, even if we are at different points. We didn't chose this; but it's happening to us anyway. These are the kinds of things I scribbled on the blank back page of the playtext of Buckets, Adam Barnard's first full-length play, after I'd seen it.
Buckets — a title which alludes to bucket lists, sick buckets, kicking the bucket and buckets of love — is an open-ended modernistic text which takes the form of some 27 short scenes, 33 in the published version, lasting about 80 minutes of stage time, and all of which explore the relentless passing of time, and comment on our realisation that death is inevitable. Given its seriousness, it is intriguing, intense and in some moments intoxicating. The keynote is variety within the theme.
The first scene, "Doctor", is about a father who tries to control himself as he learns the medical treatment will be withdrawn from his terminally sick child. In ends with his anguished, "I feel sick. I'm so sorry. I wish I…" That sense of being caught in a moment of suspended time is replicated throughout the play. In a sequence called "Kiss Me", a young woman asks a passer-by for a kiss. For her, is this meant to be a quick moment of connection, or a spontaneous way to begin a relationship? Has she thought it out as a radical act that disrupts the normal banalities of everyday life, or is she making it up as she goes along? What can come from such a moment?
In a couple of scenes about a teacher and a teenage pupil, the connection that they feel threatens to develop into something more serious. Then it does. And then they both discover that they have completely different ideas of how to spend their time together, and about what they should do with their lives. It feels like a moment that is deep in sadness. You just know that one day they will both deeply regret it. A different, edgier kind of feeling comes from the encounter when a girl is being mugged for her mobile phone just as she's in the middle of filming a suicide message. It's both hilarious and frightening.
Although the themes of the play — love, life and longing — are quite serious, the tone is never too heavy, and there is a lot of wry humour in Barnard's writing. The form of the play is quick and nimble, inevitably reminding me of Martin Crimp's Attempts on Her Life and Caryl Churchill's Love and Information. This enables Barnard to cover a lot of ground, but it also means that the experience of watching the play is a bit superficial: we never stay long enough in the same place to feel much for these characters.
Much happier is the sensibility that satirises contemporary life. Typically, this comes from Barnard's juxtaposition of clichéd linguistic formulas with the realities of existence. In an episode called "Journalism", an editor bullies a journalist into turning the story of a sick child into a tabloid-style "Ten Shocking Things I Learnt When I Made Friends with a Dying Girl". In "Terms and Conditions", a newly formed embryo is told what to expect: "Your body or vessel is licensed to you for the duration of its lifespan" but "your battery life is limited". If for human beings time is always running out, Barnard suggests that knowing the exact time when we will die is both a real temptation and a horror to be avoided at all costs.
Other treats include the section on "Parenting", which is an excellent piece of sustained monologue writing in which a huge list of everything that most parents dread from their children is turned into a hymn of love.
Director Rania Jumaily adopts a suitably playful tone by dressing some of her cast in kiddie overalls and turning the stage into a playground, dotted with flowers, with red balloons, and including a metal slide, all designed by James Turner. A small community choir lift the spirits with their a cappella singing (Eminem's "Lose Yourself" will never be the same again!). Her six-strong cast — Jon Foster, Tom Gill, Charlotte Josephine, Sarah Malin, Rona Morison and Sophie Steer — do a good job by efficiently and briskly performing the play, although I thought that Jumaily could have done with some help from a movement director: this did wonders for Crimp's Play House at this venue. Still, this is an intelligent and thought-provoking piece of new writing.
© Aleks Sierz