The Interview, Park Theatre
Thursday 2nd November 2023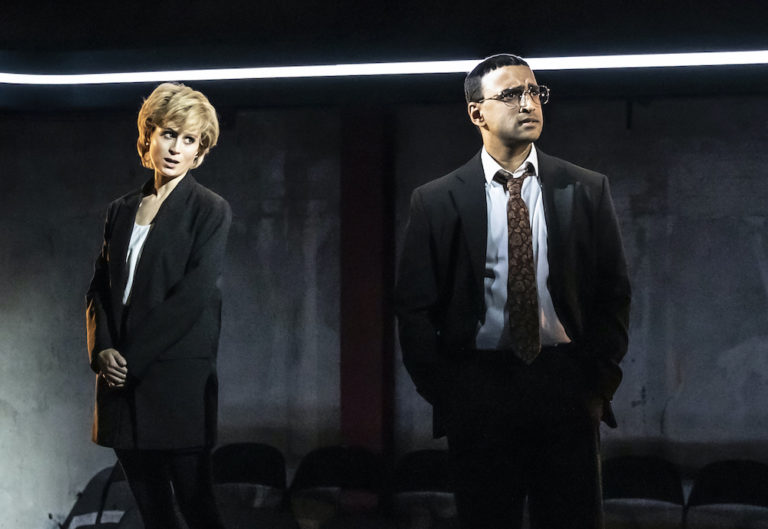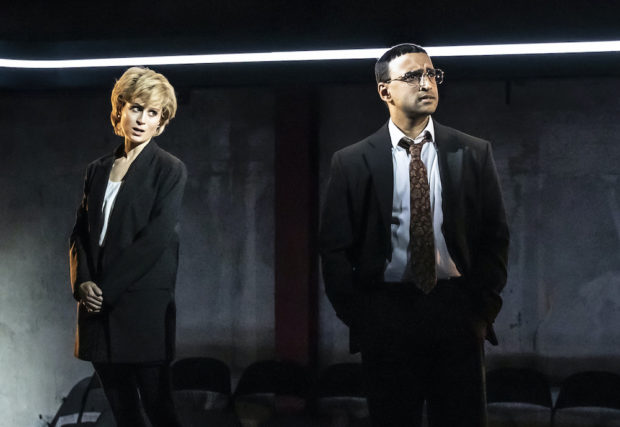 Journalism is a despised profession. And when you consider the story behind the interview that Diana, Princess of Wales, gave to BBC journo Martin Bashir in 1995 you can see why. As anyone who follows current affairs knows, it has been revealed that Bashir used less than honest methods to get this scoop and the whole sorry process has once again thrown an ugly light on the BBC as an institution. Now writer Jonathan Maitland, who has previously had Dead Sheep, An Audience with Jimmy Savile, and The Last Temptation of Boris Johnson staged at Park Theatre, gives us a documentary account of the scandal — but can it add anything to what we already know?
The story is this: on 20 November 1995 the BBC broadcast an explosive interview between Princess Diana and Martin Bashir. Watched by some 200 million worldwide, it showed the pain and unhappiness of her marriage to Prince Charles (now our king), and her mental health vulnerabilities. Taking place in her sitting room at Kensington Palace, Diana talked tearfully about her post-natal depression, bulimia and self-harm. Famously, she noted that her separation from Charles was due to his resumption of his relationship with Camilla Parker Bowles (now our queen): "There were three of us in this marriage, so it was a bit crowded."
Although this interview generated a lot of sympathy for Diana, and was a powerful blow against Charles in the War of the Waleses, it subsequently emerged that Bashir had used forged documents to persuade Lord Spencer, Diana's brother, to introduce him to Diana and to help persuade her to agree to be interviewed on camera. In 2020, on the 25th anniversary of the interview, Bashir — rehired in 2016 by the BBC as its religion and ethics (oh irony!) correspondent — was exposed as a cheat, and the result of several investigations has confirmed that his methods were completely unscrupulous and deceitful.
Maitland, an investigative journalist as well as a playwright, starts by introducing the Princess's former butler Paul Burrell as narrator, and the first half of this docu-drama shows some highlights from the long process by which Martin wooed Diana. The journalist uses both charm and deceit to persuade her to talk on film, but both emerge as equally manipulative. Diana is no air-head victim, but a knowledgeable player in the royal game who scripts and rehearses her answers and weighs up the pros and cons of each media company that is courting her. She is also anxious and paranoid — characteristics that Martin exploits. Although there is some conflict, as Diana's lady-in-waiting Luciana tries to dissuade her, this part feels underpowered and undramatic.
Things improve in the second half, which looks at the 2020 fallout from Martin's cheating. BBC executives condemn him, but are revealed as hypocrites and hysterics. The spotlight then falls on Martin's character, and a more balanced view of him emerges. This part is more imaginatively written and more compelling, with the ghostly presence of Diana (who died in a car crash less than two years after the interview) making a point about Martin's much vaunted outsider status. Maitland also makes some provocative, if unconvincing, links between Martin and the current culture of fake news and post-truth lying. Martin was hardly a Donald.
The Interview's main, but rather meagre, contribution to our knowledge is a scene in which an BBC editor cuts some of Diana's sharper opinions about royals such as the Queen Mother — and these cutting-room-floor details have a powerful charge. The play is also a reminder that the culture of BBC journalism, so universally hyped as impartial, is also a seedbed for mavericks such as Bashir, whose ethics were entirely self-serving. With its handful of jokey references to Oprah, Harry and Meghan, the play also depicts Diana as an opera fan, a cut-price Mother Teresa, an M&S ready-meal eater, and a fantasist who thinks John Major is sexy and wants to help the Northern Ireland Peace Process.
Although the 90-minute piece, which is extended to 105 minutes because of an unnecessary interval, feels quite slender, Michael Fentiman's Original Theatre production, designed by Sami Fendall on a bare stage, ticks along nicely. Tibu Fortes's Martin grows increasingly passionate, while Yolanda Kettle's Diana mixes sparks of insight with coy head tilts and pouts, and Naomi Frederick's Luciana is coolly calculating — she also plays, along with Ciarán Owens and Matthew Flynn the BBC executives and editors, while Flynn's Burrell is a study in protective restraint. All well and good, but somehow the drama never really catches fire.
This review first appeared on The Arts Desk