Soul, Royal & Derngate Theatre, Northampton
Tuesday 24th May 2016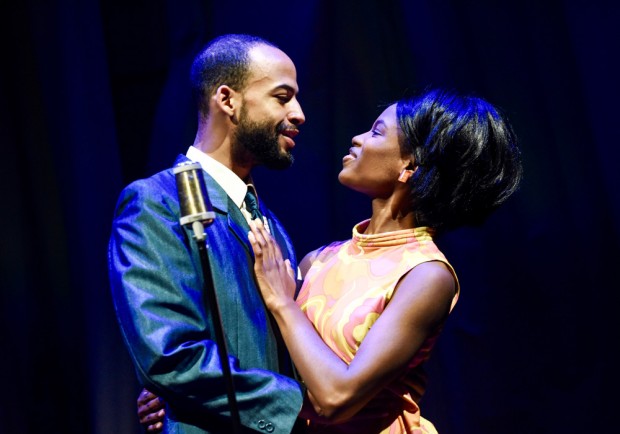 How hard is it to forgive family members for past misdeeds? I must admit that I was surprised that forgiveness turned out to be such an important theme of Soul, Roy Williams's new drama about the legendary soul singer-songwriter Marvin Gaye. But I shouldn't have been. After all, there was a lot to forgive in this family: dictatorial men, domestic violence and sexual secrecy. Oh, and how could I forget?, the fact that on April Fool's Day 1984, just before his 45th birthday, Marvin was shot dead by his father in their shared Los Angeles family home.
Since then, this event has been shrouded in mystery, and playwright Roy Williams's achievement is to make it psychologically credible, and to untangle some of the twists in the story. Basing the play not only on the personal memoir by Marvin's sister, Jeanne, but also on interviews with surviving family members and friends, there is an authentic feel to this dramatisation. To make the material manageable, Williams only alludes in passing to the great soul singer's glorious career, with its 1960s Motown hits such as "How Sweet It Is" and "I Heard It Through the Grapevine" followed by other classics such as "What's Going On" and "Sexual Healing" in subsequent decades. But that's fine; if you want to hear the songs, just go to YouTube.
Instead, Soul — subtitled The Untold Story of Marvin Gaye — focuses two episodes of his family life: early years in the 1950s and 1960s, and, after the interval, the days leading up to his death. Marvin's sisters, Jeanne and Zeola, acting as narrators, the pace of the storytelling is rapid, but there is plenty of time for Keenan Munn-Francis to make his mark as the young Marvin, singing sweetly in the church where his father (forcefully played by Leo Wringer) was the minister. By while their relationship is increasingly competitive and fraught, Marvin finds comfort in the love of his mother (Adjoa Andoh).
It's uncertain how much these tensions affected his adult life, and inevitably in a play that is just over two hours long much has had to be cut, such as his two marriages and his children. However, Williams does show the importance of Marvin's relationship with Tammi Terrell (beautifully played by Abiona Omonua), another singer, and their scenes show how her funky strong femininity was more than a match for his compulsive macho strutting. In this story, masculinity is almost permanently in crisis, whether it's the father's infidelities and sexual uncertainties, or Marvin's self-destructive tendencies. Men seem to be permanently on the point of almost suicidal folly.
Williams sees Marvin's home life as something of an Oedipal knot, and there's a layer of the storytelling that alludes to the great family dramas of ancient Greek tragedy, with Jeanne and Zeola being the onstage chorus, commenting on the action and filling in the narrative. However, even more importantly for the meaning of the play is the centrality of the Christian message of forgiveness. Williams effectively brings out the various connotations of redemption, from the title of the show to the importance of church singing to the development of black music in the 1960s. He also comes up with instances of religious hypocrisy: in one memorable scene, Marvin's father is shown as having sexual interests that you wouldn't ordinarily associate with the role of a pastor.
James Dacre's effective split-level production — designed by Jon Bausor — takes off in the second half, when the conflicts between Marvin, now a deeply troubled and drug-taking star, and his father become increasingly intense. Nathan Ives-Moiba brings out the older Marvin's desperation as well as his arrogance and unpredictability, while Petra Letang (a very down-to-earth Jeanne) and Mimi Ndiweni (a more nostalgic Zeola) play the strongly contrasting sisters in a drama which feels emotionally truthful and full of wisdom. And also, of course, of soul.
A shorter version of this review first appeared in The Stage.