Old Money, Hampstead Theatre
Wednesday 5th December 2012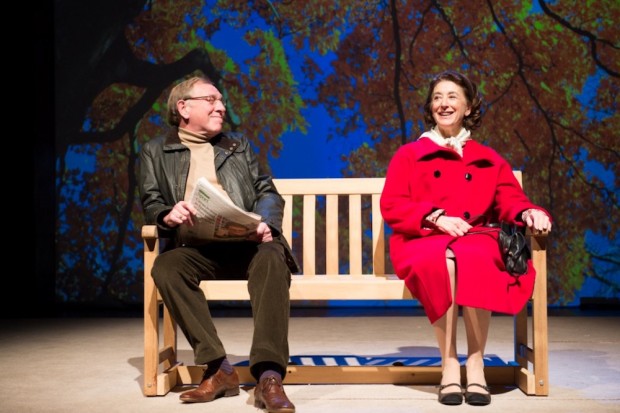 What is a good family? For the past decade, after the 1990s when family plays were an endangered species, British theatre has welcomed a host of new plays about family life, and audiences have enjoyed seeing this institution implode in front of their eyes (happy families don't make good drama). The latest one to pay a visit to this domestic terrain offers a typically critical view of this institution.
Sarah Wooley's Old Money involves three generations of women (the men are, significantly enough, either ineffectual or distasteful): middle-class grandmother Pearl is proud of being a respectable woman — that has been her life's work. When her daughter, Joyce (played by Maureen Lipman), who has spent most of her long life doing what mummy wants, finds herself newly widowed — she seizes the chance to start life afresh.
But Joyce does have problems. Her daughter Fiona is married to failed guitarist Graham, who is now unemployed. This couple have two young children and another on the way. To make ends meet, Fiona asks Joyce for help. But is she right to assume that mothers are always ready to bail out their daughters?
In fact Joyce, more nascent Merry Widow than sinister Black Widow, has other things on her mind. As she starts to explore London for the first time ever, she meets Candy, who works as a stripper, but is more friendly and interested in her than her kin. A testament to grey power, Joyce explores the seamy underbelly of the urban underworld.
One of the key themes is class. Joyce has been brought up in the suburbs of southern England, and her entire existence has been sheltered, and controlled. Although she had a brief affair with a married man a long time ago, she has been a model of good behaviour since. In one typical anecdote, she recalls how she turned down the offer of seeing the Beatles in 1963. Her reason? She didn't want to antagonise her boss at work. It's a decision she has regretted ever since.
But although Joyce, under parental pressure, married old money, her daughter Fiona is sliding down the social scale. It's 2008 and, as the global economy slows down, Fiona's family find that their good middle-class lifestyle is now under threat. This reverse social mobility is a theme that more and more playwrights are becoming attuned to.
Like most family dramas, Old Money is crucially about a lack of communication. Pearl and Joyce and Fiona have never really talked so they don't understand each other at all. Significantly, Joyce finds it easier to talk to a stranger than to her own daughter. Fiona can't imagine her mother changing her life.
Wooley's writing mixes pain and humour in good proportion and this slightly slack production by Terry Johnson has a convincing and unshowy central performance by national treasure Lipman, who travels from the speechless shock of bereavement to the mischievous joy of discovering a love of life. With solid support from Tracy-Ann Oberman and Helen Ryan as Fiona and Pearl, this is a solidly traditional family drama. Not very exciting.
© Aleks Sierz