Not About Heroes, Trafalgar Studios
Tuesday 11th November 2014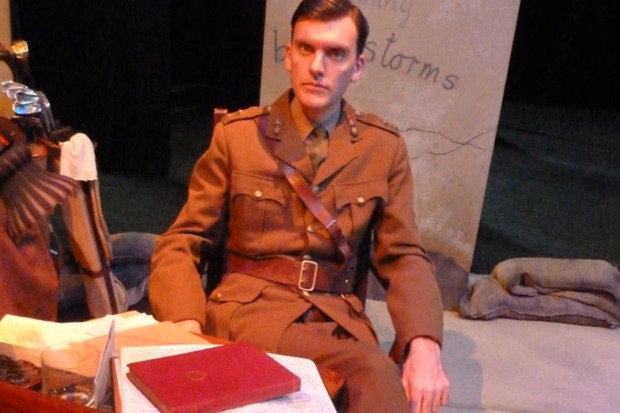 As British troops leave Afghanistan, and commemorations of the anniversary of the first world war continue their long march through the media, it is worth asking: how does theatre, which is such a public forum, deal with the trauma of war? As well as veteran lefty Howard Brenton's Doctor Scroggy's War, which looked at the horrific injuries from the Western Front a hundred years ago, one recent revival examines the impact of violence. But how successful is its portrayal of reckless masculinity and voiceless suffering?
Stephen MacDonald's Not About Heroes was first staged at Edinburgh in 1982 and examines the relationship between the first world war poets Siegfried Sassoon and Wilfred Owen. Like Pat Barker's novel Regeneration, which was published about a decade later, the play is set mainly in the Craiglockhart War Hospital for Nervous Disorders in Edinburgh. It is one of those ideal locations for drama: a hothouse of emotions and opinions.
Here Sassoon, who is an upper-class toff with a warm heart, mentors Owen, who is a working-class lad with a gift for poetry. Using letters, poems, flashbacks from the 1930s and imagined conversations, MacDonald evokes their relationship, uneasy at first because of class difference in an age of excruciating deference, but gradually warming through their shared passion for language — and their hatred of sentimentality.
Although admittedly a rather static affair, Not About Heroes tells a good story with efficient ease and reminds us of some of the best anti-war poetry ever written. At the same time, it tells the truth about these two men and their passionate devotion to patriotic duty. Even after suffering shell-shock in action, both are drawn back to France, partly from a sense of honour and partly because they are addicted to the thrill of war. This implies that war continues as a human activity because enough men are drawn to it — pacifists take note!
But there are also plenty of light-hearted moments in this evening too. The literary world of time, with its unlikable Robert Graves and Osbert and Edith Sitwell, gets a humorous pasting, and there's a quiet joy in putting down those pompous authors who had such obvious failings as human beings. There's a good critical sense of literary snobbery conveyed by this piece. At the same time, the play is itself a bit too literary for its own good: there's an awful amount of tell-don't-show here.
This touring production, directed by Caroline Clegg, opened at Craiglockhart and also played at the Wilfred Owen Memorial in Ors, France, and at the poet's home town of Shrewsbury before coming to Trafalgar Studios (the nearest venue, the programme reminds us, to the Cenotaph in Whitehall). The press night in London was rather fittingly scheduled for 11 November, Armistice Day, which was also the anniversary of when Owen's parents learnt of their son's death just before Armistice Day in 1918.
Despite appealingly fresh performances by Alasdair Craig as Sassoon and Simon Jenkins as Owen, it has to be said that this is a rather old-fashioned play about an old-fashioned subject. There's a lot of talk, talk, talk. Because it lacks much in the way of theatricality, you can see why Not About Heroes was more successful as a radio play. For although it conveys the pity of war, it never really tells you much about its trauma. When the Owen poems recited on stage — "What passing bells for those who die as cattle?" — are so much better than the dialogue around them you know that something's wrong with the writing.
© Aleks Sierz