Muscovado, Theatre 503
Wednesday 25th February 2015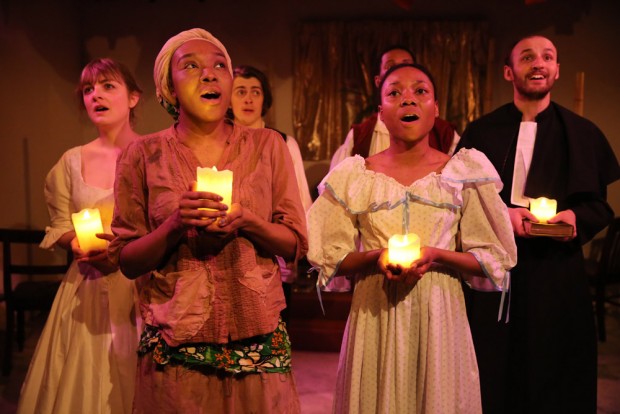 Race is one of the hottest issues in theatre. It is clearly relevant to contemporary life, but the question of how you represent it involves hard decisions about what kind of play is best suited to the task. One choice is whether to tackle the present — or the past. Should the drama be an examination of contemporary life, like John Hollingworth's Multitudes, or a history play that analyses the prejudices that underlie today's race relations?
Matilda Ibini's Muscovado time-travels to the past to look at the issue. Her history play is set on a sugar plantation in Barbados, circa 1808. Kitty is the wife of a wealthy slave owner, the tyrannous Captain. Although their marriage to has failed to provide children, she looks after her female house slave, the 12-year-old Willa, as if she was her daughter, much to the disgust of Parson Lucy, the local minister. Meanwhile, another house slave, the mixed race Asa, is seduced by Elsie, a field worker.
The Captain never appears on stage but his presence broods over the entire story. He summons his wife for sexual services at all hours of the day, and Kitty is shown as completely in thrall to his pleasures. She, of course, has her own agenda: she wants him to take her back to England. There is a sense that the West Indies is a place on the edge of the world, with the globe's centre firmly located in the metropolis.
Numerous scenes follow, tumbling over each other and, along the way, offering sketches of plantation life and the oppression of black people. Kitty wants to include her slaves in a family portrait, while Parson Lucy expounds the ridiculous theory that black people have smaller brains than white people. Whenever the whites are frustrated, they take their irritations out on their servants. The angry beatings in this play are shocking to watch.
Sexuality is another steamy ingredient. Questions are raised about Asa's paternity (could he be the Captain's son?); and Kitty has a wild plan to use him to impregnate a series of female slaves, thus increasing the plantation's stock of slave labour. She calls this project "New Africa". When relations between white men and black women get tense, the whites use rape as a form of punishment. By contrast, Asa's relationship with Elsie is full of tenderness, as well as pain.
Ibini weaves together the themes of sex, race and violence, with a mixture of powerful confrontations and more surreal and farcical moments. However, some of the writing is clumsy — such as the explicit explanation of Muscovado sugar as being more refined and lighter than the dark original — and the story feels very overheated. Some bits are just too much. Too often, the playwright tells instead of showing, and some of the dialogues are awkward. But this is by no means a dud.
With a nicely lit staging, and the air full of the sounds of mosquitoes and West Indian fauna, Muscovado staggers along a fine line between historical reportage and absurdity. The strong points are Ibini's portrayals of colonial power, when humiliation — vividly staged in all its distressing force — is a fact of daily life and religious ideology is used to explain economic domination. It's hardly surprising that, when a storm provokes a small rebellion, the rioters sack the local church.
Sophie de Vries and Clemmie Reynolds's production has some well-organised stage pictures, but also some uneven acting. The onstage singing, an evocative mix of psalms, hymns and folk tunes, composed and led by James Reynolds, creates an enjoyably atmospheric ambiance, and the energetic cast, headed by Clemmie Reynolds's Kitty, is Alexander Kiffin (Asa), Sophia Mackay (Willa), Adam Morris (Parson Lucy), while James Reynolds plays several instruments as well as the role of the mysterious visitor. Moments of humour balance the casual and vicious racism of this criticism of an era of appalling colonial history. If skin colour remains a powerful site of cultural confrontation, this play — for all of its hilarity — is a grim reminder of the sheer violence and injustice of British rule.
© Aleks Sierz