Men in the Cities, Royal Court
Wednesday 22nd July 2015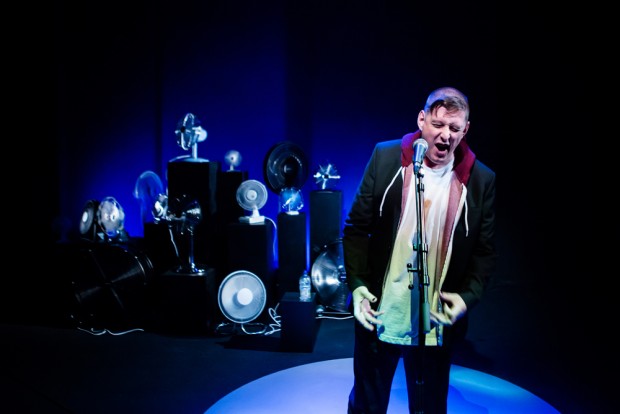 Hurray, I've finally seen a play by Chris Goode. It's unusual for me to bring a lot of baggage to such an event, but this is an exception. I have to say that I've been familiar with the stellar reputation of his work long before today. Academics rave about it; students love it; barking dogs fall silent when its shadow passes. Critics who love devised work love Goode. The Guardian calls him "British theatre's greatest maverick talent". But although he has been touring his work since the start of the new millennium, it has rarely appeared in the mainstream metropolitan venues I usually go to. So I was delighted that the Royal Court has invited him once again to perform his classic one-man show, Men in the Cities, although its run is limited to two weeks. (I missed his previous Court appearance in July 2014, which had a similarly shortish run.)
Now, having seen the show, I finally get it. It's a work of genius. And therefore difficult to write about. But here goes anyway. Men in the Cities is a 90-minute monologue performed by Goode on a bare stage, in front of a microphone, with several electric fans arranged on boxes behind him. It starts in the middle of the night — a time of day that fits atmospherically with the pitch-black dark of the Royal Court's upstairs studio — with an "awful kind of shrieking sound", the sound of murder, the sound of banshee death. It's the sound of an urban fox. "Fuck me, goes the vixen. Fuck me, more."
From here in, the themes of love and death emerge blinking into the daylight as dozens of alarms, radio alarms and other wake-up calls ripple across the city, and Goode introduces us to his main characters, as well as to several bit parts too. There's 10-year-old Rufus, a mischievous boy who is already watching internet porn; there's twentysomething Ben, an inwardly troubled gay man; there's seventysomething Jeff, who has lost his wife; there's Rehan, a newsagent; there's Brian, an architect; Graeme, who does the cryptic crossword but with his own answers; there's Tom, about whom I don't remember much; and there's Rod Palladino, who works in the City and has a seven-year-old son called Freddie. Rod doesn't remember his dreams — which is just as well.
With enormous confidence and precision Goode shows how these characters, all males who are lonely and whose capacity for violence is very close to the surface, are connected in various ways in the alienated world of the big city. With all of these men, there is no home but loneliness. Two large narratives frame the micro-narratives of the score of individuals mentioned in the story. The first is the murder of Fusilier Lee Rigby by Michael Adebolajo and Michael Adebowale in Woolwich in May 2013; the second is the suicide of a young gay man. These two violent deaths, different as they are, suggest that masculinity is defined by a capacity for violence. But what causes it? Anger? Fear? Desperation?
As the fractured pieces of the story are assembled, Goode puts himself into the story. He is, after all, the writer. Unable to write much about the suicide, he goes and stays with his 80-year-old father, a domestic episode in which care and frustration are both present. At the same time, with a postmodern flourish all of his own, Goode brings the story to an end by openly revealing his authorial responsibility. And no one, not even a child, is safe from an author who wants to make a point. It feels like the anger of the characters both has its origin in Goode's anger, and that they make him even angrier.
Complex psychologically, brilliantly written, Men in the Cities — a title taken from a 1980 series of pictures by artist Robert Longo — is troubling, exhilarating, funny and beautifully imagined. It takes a slice of modern masculinity, puts it in a test tube and shakes it until it pops. There were several bits that made me feel hot: the bit with Snow Patrol's 'Run'; the bit with Prissy, a childhood doll; the bit about the London traffic and the ranting "supernatural radiant bender". Bits like this made my heart beat faster, a sure sign of genius. I love the almost effortless poetry of the writing, and the distinctive, charming voice of the writer. At the same time, there was one bit I wasn't sure about: at one point, Jeff says that one of the killer's of Lee Rigby "speaks for me". He agrees with the killer. It's provocative all right, but is it convincing? Really?
This is, perhaps, an evening more about feeling than about reason. The rational reasons for suicide remain unexpressed; but the feeling of a fragmented unendurable life is there alright. The men are hurting, the men are vicious, the men just are. Other emotions include confusion, pain and terror. There are difficult moments about porn, and there's a feeling that violence is tied to sex, especially pornographic re-enactments of sexuality. Desire is troubling to these men; and they are all upset by the darkness within. And then there's their fascination with pain: I was reminded of the line in Patrick Marber's Closer — "I love everything about you that hurts."
Although the dramaturgy of the play is quite static, Goode's onstage persona, with his eye-shadow and black nail varnish, exudes an appealing, singular aura. He's queer, in a soft but insistent way. He mixes a quiet intensity with the desire to howl and roar, and the satirical glint in his eye never obscures the compassion in his heart. He's cool; he's factual; he's well in control. As directed by Wendy Hubbard, the show's episodes are punctuated by simple lighting changes, and — not unexpectedly — the bank of fans plays a crucial role in one episode. Fractured, fractious yet affable, this is a monologue to haunt your nights and occupy your days. Brilliant.
© Aleks Sierz