Jude, Hampstead Theatre
Thursday 2nd May 2019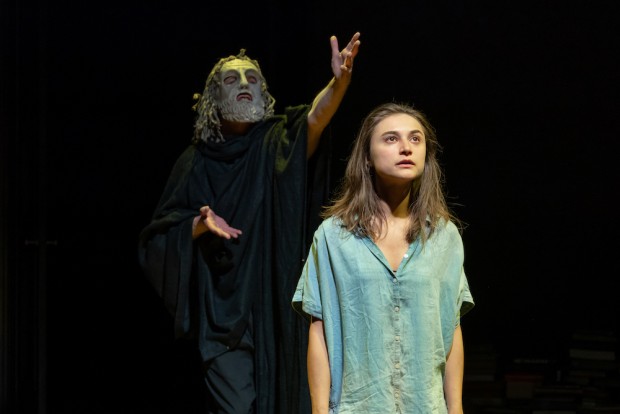 Edward Hall bids farewell to this venue, where he has been artistic director since 2010, with this production of a new play by Howard Brenton. The playwright has been a regular at the Hampstead Theatre, and he has enjoyed stagings of his history plays here, including 55 Days (2012), Drawing the Line (2013) and Lawrence after Arabia (2016). His latest is much more contemporary and loosely inspired by Thomas Hardy's 1895 tragic novel, Jude the Obscure, which famously ends with infanticide and death by hanging, so it is with a faint heart that I sit down to watch this modern version, which changes the sex of the protagonist, but keeps their aspirations to acquire an Oxford education.
Judith is a cleaner, which is today-speak for poor and uneducated. She is also an undocumented Syrian refugee, an outsider. But she has a secret. At the start of the play she is caught stealing by her employer Sally, an upcoming academic, who is surprised to find that the young woman wants to take a book, and even more amazed that it is Euripides and that Judith can translate passages from the original ancient Greek. It turns out that she is a self-taught language prodigy, who dreams of getting into Oxford because that is what her father, who is now dead, imagined she could do when they got to England. After some difficult moments, Sally takes her young charge under her wing.
But there are many obstacles to taking a Classics degree at Oxford, from the need to have starred A levels to earning a living. Brenton pitches Judith straight into a relationship with Jack, her working-class, meat-selling lover, and then into the arms, well almost, of Deidre, an Oxford professor vaguely reminiscent of Mary Beard. And although Judith is an orphan she does have family, in the shape of Martha, her aunt, and Mark, her god-blitzed cousin. Readers of the source novel might expect some incestuous desire between the cousins. Amid several discussions with Mark about Muslim and Christian identity, Judith reveals that it is the spirit of Euripides, who appears on stage in a mask, who is closest to her soul.
Brenton sets the play up as a tragi-comedy, with an unusual heroine. His Judith is a fascinating character, an outsider who — despite the fierce intensity of her aspirations — can see the reality of the host nation. At its best, this is a humorous satire on the Oxford and England we know so well: there are a lot of laughs about political correctness, higher education, English tolerance and American Free Trade. In one hilarious moment, Deidre shows how Judith ticks all of the diversity boxes for a scholarship. At the same time, Brenton plays a game with audience expectations: knowing the Hardy book, and hearing mentions of Medea, we get nervous when Judith has a child, especially when she separates from Jack.
But in the end this is more comedy than tragedy. Brenton's conclusion is that exceptional talents like Judith do not get crushed by the gods, or the secret services, or even succumb to madness, but rather are defeated by banal contemporary factors. Dreams are snuffed out by the needs of institutions, and people's lives are ruined by police mistakes, or bureaucratic rules, or casual cruelty. Today, whatever our fantasies, there are no more gods. So while Brenton presents us with a whole fishmonger's slab of red herrings, the lessons of the play are depressingly familiar: ruin the individual to save the institution.
As the foreigner, Judith enjoys moments of great clarity, and her extremism is also a great source of humour. The best speeches are intellectual discussions of Homer's Iliad, the connection between individual genius and collective creativity, and the relationship between thought and language. With nods to contemporary concerns about Islamic terrorism and references to Palmyra, this is a play for today which includes a lot of material, from a Carrie-like pig-killing episode to an account of a death in the Hungarian snow. The satire has a nice acerbic tang, questioning the myths of Oxford's excellence and English freedoms, but the story meanders in the second half towards a rather unsatisfactory end. And, at its worst, the play has a gnomic sensibility in which its symbols become lost in misty word play.
Hall's production is fluid and clear enough, and Ashley Martin-Davis's circular set is symbolically surrounded by books. Isabella Nefar plays Judith with a convincing sense of oddness, and her anger can put fire into the action. She is well supported by Emily Taaffe as the earnest Sally, Caroline Loncq as poshly professorial Deidre, Luke MacGregor as the populistic Jack, Merch Hüsey as the puritanical Mark and Anna Savva as wary Aunt Martha. Paul Brennen is both the ghost of Euripides and a spook. While the play is cerebrally entertaining, the story never quite delivers on its promises. It never grabs your guts.
This review first appeared on The Arts Desk