Inherit the Wind, Old Vic
Wednesday 7th October 2009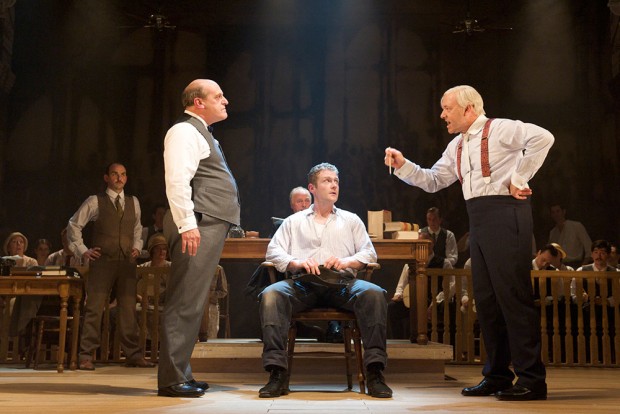 Courtroom dramas are a surefire theatre hit. They have ritual, all that swearing to tell "The truth, the whole truth and nothing but…", dramatic conflict, as prosecution and defence lawyers lock horns, and above all, they have a climax, as the verdict is announced. But, despite this, most courtroom dramas are dull as dusty law books, and Jerome Lawrence and Robert E Lee's 1955 play, Inherit the Wind, is one of those.
Okay, some of it remains relevant. Based on the 1926 Scopes Monkey Trial, in which a Tennessee teacher, John Scopes, was put on trial for telling his pupils about Charles Darwin's theory of evolution, the play is a clash of ideas. Then, as now, there was a fierce battle between those people who cannot accept that human beings are descended from animals, and those for whom it's no problem.
Now that a so-called alternative theory, hyped up as Intelligent Design but so preposterous that it's not even worth describing, is once more being taught in various benighted parts of the United States of America, it's good to see Darwin win another moral victory, even if it's only on stage. With the revival of interest in fundamentalist religion, and other forms of mystical claptrap, we need more plays that expose this nonsense for what it is.
Sadly, we don't really need Inherit the Wind. As a play, it's as clunky as a Model-T Ford, with creaking dialogue, one-tone characterization and mechanical plotting. With its huge cast, and dreary air of old-fashioned rectitude, this may be a popular piece in the United States, but I can't see it becoming a staple of British theatre. Not even the fact that comments obliquely on McCarthyism can save it. It's deadly theatre.
In fact, the only reason to see this show is two of the actors. With Kevin Spacey as advocate for the defence and David Troughton as prosecutor, the play's second half does manage to pack something resembling a theatrical thrill. Spacey has transformed himself with snow-white hair, a crooked stoop and a querulous voice while Troughton fields a battery of grumps, humps and stomps as his religiously bigoted adversary.
Although Spacey gets the better of Troughton in his arguments, he is fighting a lost cause. The local community prefers religion to science, the darkness of belief to the light of truth. In this context, the only solution is, as the play shows, to get out and make a run for it. Not to the hills, but to the city. As the cynical journalist E K Hornbeck, played by Mark Dexter and based on H L Mencken, suggests, freedom can sometimes only be achieved by detachment.
Trevor Nunn's smooth-flowing production sometimes runs aground on the shoals of gospel singing and big crowd scenes, all of which convey the claustrophobia of the American South but slow down the action. You can almost sniff the bible-stench on the streets of this show. In the end, there's very little human interest here. In fact, on the night that I saw it, in the first half the audience was mostly captivated by the rhesus monkey which has a small bit part. Given Darwinian evolutionary theory, maybe this is apt. We were all admiring our ancestors!
© Aleks Sierz