Hello/Goodbye, Hampstead Theatre
Friday 30th January 2015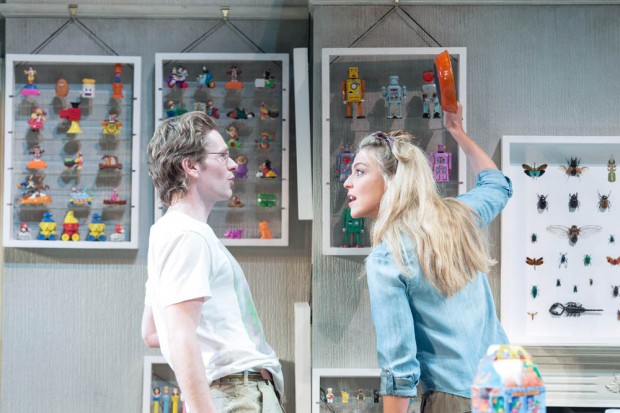 I've often complained that British new writing ignores the subjects that most middle-class people talk about: education, politics and property. Especially property: the conversation hogger of a thousand dinner parties; the obsession of a million young adults; the proud wealth of their settled parents. So why am I not ecstatic about Peter Souter's play that begins with a dispute about a flat? Probably because it is such a poor piece of playwriting.
At first the signs are good. Due to a blunder by an estate agent, Alex and Juliet meet while they are moving into the same flat. The twentysomethings are neatly contrasted: Alex is a slightly autistic album-sleeve designer who is mad about collecting every plastic toy ever made by McDonald's, as well the signatures of every man who has flown to the moon, as well as cigarette cards and as well as insects. He has no mates. Juliet — who works in a lowly job in the City — is a sassy, noisy, rather selfish woman who has plenty of friends. Until she sleeps with their boyfriends.
The set up is okay, even if the hurried mutual attraction of the two characters takes some swallowing. It's no spoiler to say that soon Alex and Juliet both move into the flat, and become lovers before the interval. After the audience returns, about a decade has passed and just as the first act was hello, the second is goodbye: Alex and Juliet are splitting up. The possessions that we watched being unpacked at the start of the play are now packed away. There's only a few things left that they need to divide up.
It has to be admitted that this rom-com is well cast. Shaun Evans and Miranda Raison, familiar from a dozen television programmes, are attractive both in themselves and as a couple. The trouble lies in the words they have to speak. The light banter and bright dialogue is perfectly shiny, but feels superficial. What about other aspects of a good play? Any motivation? Nope. Any character development? Nope. Any reason to feel for these people? Nope.
The other major problem with the play is its structure. Having decided to tell Alex and Juliet's story in only two 50-minute scenes — one about meeting and the other about parting — Souter is unable to write the second one as if 10 years really have passed. The result is that both halves of the play have almost exactly the same tone and flavour. It feels like a book by David Nicholls. This is new writing lite.
Like a cheap Private Lives for the Facebook generation, the evening rejoices in cheery chat with the verbal fencing being as light and moreish as bubble wrap — and as easy to pop. It's motto is an offhand "It's complicated". The occasional serious point about male autism — Alex is a manic collector so does he prefer things to people, his collections to Juliet? — or about things as repositories of memory get lost in the colourful chatter. Some funny moments about a mechanical chicken or jokes about drug dealers are drowned by the blandness.
To be scrupulously fair, there is an emotional punch that arrives near the very end of the play, and it feels even stronger for being unexpected. Then Souter throws everything away with an ending that is so sentimental it almost causes a sugar rush. But hey, isn't this sweet feeling what audiences want? Tamara Harvey's production is meticulous: she even gets Alex to use a spirit level when he hangs his collections on the wall. And there's attractive acting not only from Evans and Raison, but also by the duo supporting them: Luke Neal and Bathsheba Piepe. And Lucy Osborne's bright design matches the words of the play perfectly.
Hello/Goodbye was hit in this venue's Downstairs studio in 2013 so it's promotion onto the main stage seems to suggest that the Hampstead Theatre sees this kind of light entertainment by a television writer as a bid for popularity. Lets get those bums on seats! But this is clearly a misguided policy. There's something very depressing about seeing what was once a proud new writing theatre now trying out feeble plays for a West End audience. Could this be another example of the current crisis in new writing?
© Aleks Sierz