Fireworks (Al'ab Nariya), Royal Court
Thursday 19th February 2015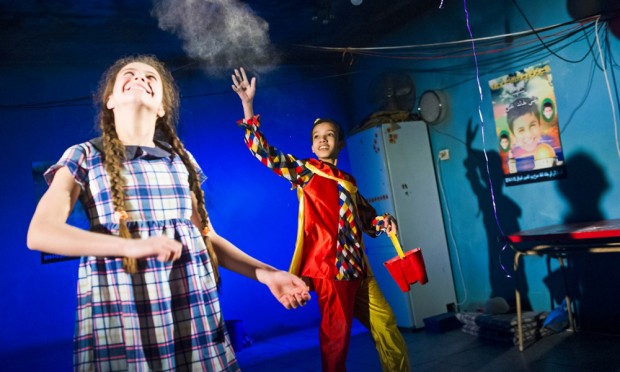 The Royal Court has an excellent record of producing plays from different countries. Richard Twyman, the director of The Djinns of Eidgah at this venue 18 months ago, now returns to direct this new anti-war play, which was developed during the Court's International Residency in August 2013, and has been updated since by Palestinian poet and playwright Dalia Taha. As Vicky Featherstone, Artistic Director here, puts it: the play is "a personal and considered response to what is happening in Palestine".
Set in a nameless Palestinian town during air raids by the state of Israel, the play shows us glimpses of the relationship between two youngsters: 11-year-old Lubna and 12-year-old Khalil. Because of the bombing ("fireworks"), it is unsafe to go outside, and they have to stay inside their apartments, so they mainly play in the stairwell. But if they are effectively imprisoned, then so are their parents. Both couples — Khalid and Nahla (Lubna's parents) and Ahmad and Samar (Khalil's parents) — have their own problems. Lubna's brother, Ali, was killed six months previously so Khalid and Nahla are still raw from his loss; Ahmad and Samar argue over many things, including whether it's right to attack a restaurant as a reprisal.
With enormous grace and power, Taha sketches out — in Clem Naylor's clear and direct translation — the psychology of people trying to live in siege conditions, but her story is depressingly simple and rather underdeveloped. It's hard to feel for the characters despite their dreadful plight. But there are some good moments: Khalil's love of Ninja Turtles, Lubna's growing awareness of her approaching womanhood, and the precarious sense that people can be complicit in their own imprisonment. Once again, it is the cop inside the head that wields the biggest truncheon.
There are other, related themes: the innocence of childhood is clearly compromised by the appalling effects of violence, and Khalil's male psyche is already being twisted in ways that do not bode well for the future. The way that the death of child can eat away at the relationship between its parents is also deftly portrayed. Each of the characters uses make believe to sooth the pain of their existence. Imagination is a tool of survival, and Taha's writing is a confident mixture of the everyday and the fantastical. Khalid's speech about everything being mad, while "Everything's going to hell" and "WHERE IS THE SKY?", is particularly strong. As is Lubna's final story, a prose poem about a little girl who loved heaven.
And Taha is very well served by her director. Twyman's atmospheric production, on Lizzie Clachan's claustrophobic set, has a distinctly nightmarish feel, with flashbulb lighting and electric fizzing, despite the fact that the actors — Saleh Bakri and Sirine Saba (Khalid and Nahla), and Nabil Elouahabi and Shereen Martin (Ahmad and Samar) — are occasionally, despite their experience, a bit uncertain. The youngsters, although more inexperienced, are also more impressive: Shakira Riddell-Morales and Eden Nathenson share the role of Lubna, while Yusuf Hofri and George Karageorgis, making his professional debut, do the same with Khalil. In the end, however, this is a play that is easier to respect than to love.
© Aleks Sierz