Bad Roads, Royal Court
Tuesday 21st November 2017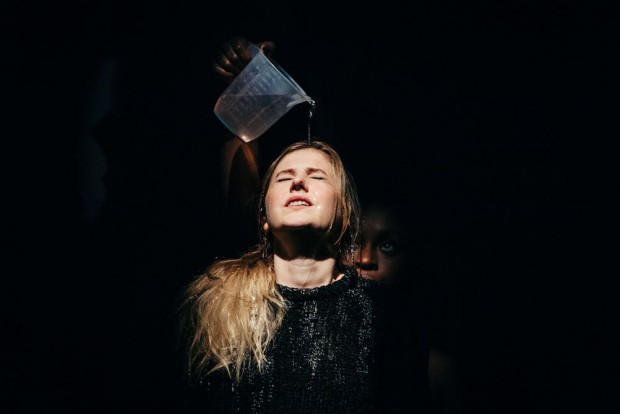 War is morally acidic: it dissolves social rules, loosens inhibitions and gives permission to men to behave like animals. And the people who have to put up with this deluge of amorality and abuse are, of course, women. It is one of the strengths of Ukrainian playwright Natal'ya Vorozhbit's savage war play, Bad Roads, translated by Sasha Dugdale and part of the Royal Court's autumn international season, that she shows not only what war is like for women, but also its corrosive effects on masculinity. Especially how conflict collapses the boundary between humanity and animality.
Set in the Donbass region of Ukraine, where war has been raging since 2014, the play is structured in six episodes. Each one offers a vivid snapshot of life during the conflict: in the first, Woman, a 40-year-old journalist who wants to visit the Front Line, tells the story of her awkward love for a soldier who shows her the conflict. Then we watch three teenage girls, hanging around a military base, exchanging sex for gifts and the illusion of love, followed by a fraught encounter between a head teacher and some soldiers at a military checkpoint and then a jinxed road trip in which the body of a killed soldier is transported by his lover for burial.
The longest, and most excruciating, episode takes place in a basement with no windows. A soldier terrorizes and abuses a young woman, deflecting her attempts to reach him by boasting about being a sadist and a killer. Underlying this almost unbearably tense interaction is the clash between European liberal values and deeply atavistic prejudices. Ethnic hatred shades imperceptibly into misogyny; power is phallocentric. After this dark episode, the play's final story is a comparatively funny tale, told in flashback, about a young woman from the city who runs down an old peasant couple's chicken. When they negotiate compensation, the country folk run circles around the urbanite.
Although the 105-minute play lacks narrative drive, and the absence of character names is frustrating, its patchwork of stories and images creates a powerful, occasionally indelible, picture of contemporary warfare. War is a place of dank basements, bases without toilets, pine forest clearings, broken potholed roads, empty petrol stations, disgusting roadside cafés and inedible food. In this landscape of degradation, the sound of distant guns is constant and the state of fear turns men into predators and women into opportunists. Because all social rules have been suspended, anything is possible, anything might happen. Power comes from the barrel of a gun.
But if men stride through Bad Roads like big, silent would-be heroes, their boasting is soon exposed as pathetic. In one sexual encounter after another, they are shown to be impotent: erections are lost as regularly as shots are discharged. This metaphor is repeated throughout the six sections, with each story being a touch more profound that the last, creating the sensation of descent into a well of blackness, as if we were sinking deeper and deeper into the heart of depraved humanity. And what a frightenly chilly place that is. Nevertheless, amid the moral darkness are flashes of the surreal: bodies in domestic freezers; a rain of kittens; the cost of dead Ukrainians counted by the kilo.
In this intensely upside-down world, where everyday objects acquire the most sinister connotations, and where old aunts are unable to protect their nieces, Vorozhbit examines the relationship between sex and violence — and concludes that men prefer violence because it's less intimate. It leaves them feeling safer. While her stories seem to interlock, tantilizing us with possible connections that never really come off, it is the brief moments of sudden, unexpected violence that are the most memorable aspect of this thought-provoking and frightening evening.
On Camila Clarke's versatile set, which mixes concrete flooring with dessicated trees, Vicky Featherstone's haunting and unsettling production frees the staging from some of the constraints of the text: the road trip is not played in a car but across the whole set using chairs and a freezer as props. In the basement scene, she uses a total blackout to subvert audience voyeurism. When the text demands nudity, her women stay dressed. Her colourblind cast, who play two roles each, are uniformly good, although special mention should be made of Kate Dickie's opening monologue, Mike Noble's commander, Tadhg Murphy's sadist and Ria Zmitrowicz as his victim. The mixed British accents of the actors — from Liverpool to Essex — give the stories a local resonance whose intensity reminded me, especially in the basement scene, of Sarah Kane's Blasted. Like that play, Bad Roads brings us sobering news: wars continue to happen because enough men get off on them.
This review first appeared on The Arts Desk