Liberian Girl, Royal Court
Tuesday 13th January 2015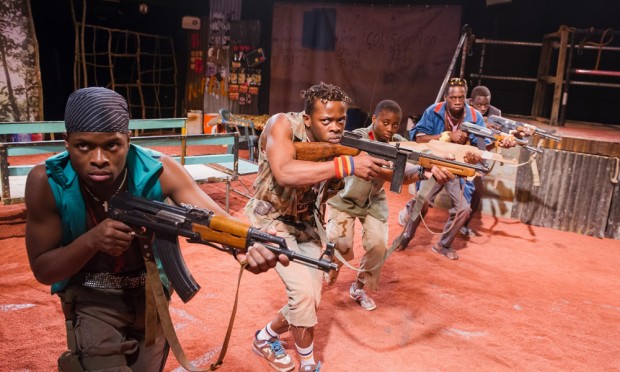 The prelude to a press night of an immersive theatre show is always a bit fraught. After a couple of apologetic emails that warn critics that they might have to stand, there is a bit of last-minute fussing — and the offer of a seat in the gallery of this venue's Theatre Upstairs to those poor souls who look frail enough to need one. Yes, this is a promenade performance, a 95-minute immersion in the world of child soldiers and civil war violence.
Okay, I hear you. I know I'm entering a dangerous zone; I mustn't stand there; I mustn't touch that. The performance, I have been warned, will take place all around me. Instinctively, as I step inside the airless theatre space, I look for a place where I can put my back against a wall. It feels safer like that. But I definitely feel tense.
The playtext, which I peer at in the half light, tells me that Diana Nneka Atuona's award-winning debut play is set during the early years of the first Liberian civil war. All around me the theatre, as directed by Matthew Dunster and designed by Anna Fleischle, is a facsimile of an African location, with a small frame building in the middle, reddish soil, platforms and tyres and plastic chairs and corrugated iron. On some walls there is graffiti. It all feels a bit precarious.
Then the play begins. Starting in 1992, the story follows 14-year-old Martha (Juma Sharkah, making her debut), who gets caught up in the violence of Charles Taylor's bid for power. Her grandmother Mamie Esther (Cecilia Noble) disguises her as a boy, and the couple journey to Monrovia, the capital of Liberia. But very soon Martha is separated from Mamie Esther, and forcibly recruited into the boy-soldier army of Taylor. Taught the ropes by other teenagers, with the expressive nicknames of Killer and Double Trouble, Martha is renamed Frisky and her career as a soldier develops as the army marches, looting and murdering, on Monrovia. While Martha survives in her disguise as a boy, other girls are raped, including Finda, who, unaware of Frisky's real identity, becomes attached to "him".
Admittedly, the story would be rather banal were it not for Dunster's totally immersive production — which plunges us into the thick of the conflict, being pushed around by soldiers and yelled at by commanders. At one point, I am pushed to the side, at another time, I creep along a wall to safety. I begin to get it: to survive, you have to develop an instinct; you have to feel where the next attack is coming from and move accordingly. Yes, the action always feels dangerous and the atrocities — which sometimes happen right in front of you — are really horrible. As the soldiers approach Monrovia their hysteria rises, and their drug-addled machismo knows no bounds.
Within this maelstrom there are some moments of tenderness, as the relationship between Frisky and Finda grows more intense. But although the two young women are being traumatised, and their sense of self is battered and bruised by their experiences, the effects of savage conflict on their identities is hinted at rather than fully explored.
The play, which was first given a staged reading at last year's Global Summit to End Sexual Violence in Conflict (chaired by William Hague and Angelina Jolie), here gets a thrillingly acted production which is both shockingly realistic and emotionally gruelling. The cast perform very strongly, especially Sharkah as the initially wide-eyed Martha and Noble as the strict Mamie Esther, with good support from Valentine Olukoga (Killer) and Michael Ajao (Double Trouble). But although this kind of experiential theatre is frightening, it says nothing about the causes or progress of the civil war — what's missing is any explanation of the politics of the time. Although the story is rather simple and journalistic, rather than complex and imaginative, Dunster's almost feverish staging gives it a real impact. And that's pretty rare.
© Aleks Sierz