And I and Silence, Finborough Theatre
Thursday 12th May 2011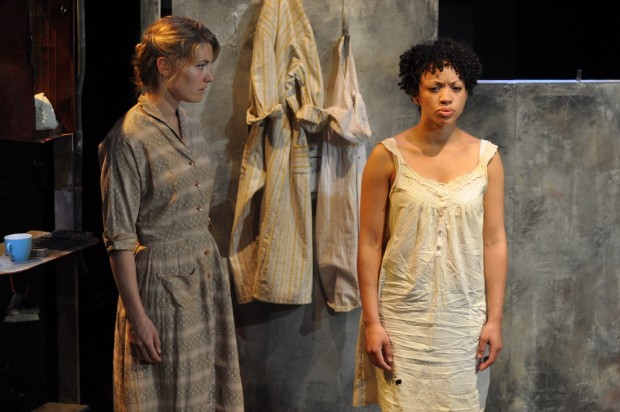 During the past five years, London fringe theatre has experienced something of a rebirth. Of course, it has not revisited its old and radical political roots, but it has become an arena of partial experimentation and a space for reviving forgotten modern plays. One of the best of the many venues that make up the fringe is the Finborough, in Earl's Court, which has won several awards recently, including the inaugural Stage 100 award for a Fringe Theatre.
The current production is a prison drama called And I and Silence by American playwright and British resident Naomi Wallace, who returns to the venue which staged her 1993 debut, The War Boys. Her new play is part of the Finborough's In Their Play, a three-month season of work by women playwrights. But regular visitors to this hot little cauldron will be even more excited by the fact that it now has air conditioning.
Co-produced by Clean Break (the theatre company that works with prisoners), Wallace's play is partly based on workshops which took place at HMP Morton Hall, although it is set in a different context: somewhere in the USA during the racially segregated 1950s. The play tells the story of Dee and Jamie, a white teen and a black teen, who meet in prison. Released nine years later, they decide to live together, but poverty, unemployment and racial intolerance in the wider society means that their friendship is gradually doomed.
While incarcerated, Dee and Jamie act out their fantasies of being domestic servants in the poshest houses. But the reality is predictably harsher. In most households, the men expect to be able to sexually harrass their cleaners at will. As a result, both Dee and Jamie face the choice of unemployment or prostitution. At the same time, their uneasy life outside prison is likewise constrained by four walls.
As Wallace makes clear, about sixty years ago an American black woman and a white women were unable to walk down the street without people thinking they were mistress and servant, or abusing them for being friends. So Dee and Jamie stay indoors. By not specifying exactly where in the USA the play is set, Wallace offers an angry indictment of the whole system of segregation.
This passionately felt story is beautifully written, with its teenage dreams, pent-up fury and adult disillusionment. Jumping between 1950 and 1959, the text is structured by the pair's rituals and its repetitions are lightened by unexpected images, flashes of humour or the ringing bells of rhyme. It's also a neat twist to show prison life as touched by hope while freedom in the wider society is full of despair.
The serious themes of And I and Silence (the title comes from a poem by Emily Dickinson) are female love, racial segregation, and the brutality of poverty and incarceration, but these are presented subtly, woven into the texture of the text. Caitlin McLeod's production, on Cecilia Carey's versatile set (which suggests that there is not much difference between imprisonment and freedom for these women), is calm, deep and dignified. Her superb cast — Lauren Crace and Cherrelle Skeete as the younger Dee and Jamie, and Sally Oliver and Cat Simmons are their older selves — are pitch perfect. A heartfelt play, and great air con too.
© Aleks Sierz