On remembering David Bowie
Monday 11th January 2016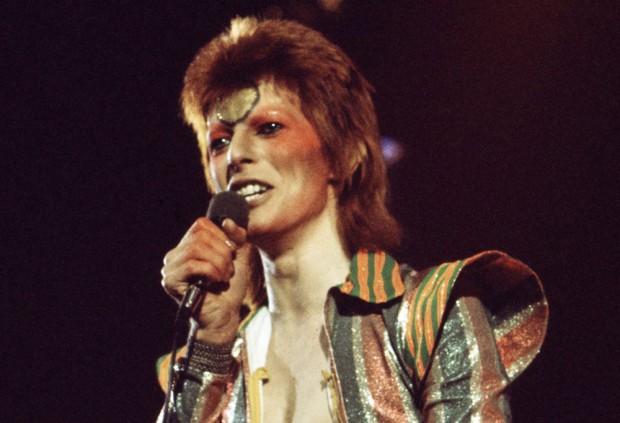 When someone famous dies, the media remember only the good bits. But I remember some of the crazy stuff too.
• I remember listening to "Space Oddity" on the radio while tie-dying a T-shirt. At the time, everyone was doing that. I felt I'd really made the grade.
• I remember smoking some Lebanese hash in a pipe and, just as the hot smoke rasped the back of my throat, the opening chords of "The Man Who Sold the World" hit my eardrums. And the way the sounds, especially the percussive scrape and the jagged echo, tickled my brain. Which came as some surprise.
• I remember, some time in early 1970s, that me and my mates used to go to suburban parties, dressed in women's clothing, and all made up. I remember kissing blokes. We must've been listening to Hunky Dory. Trying so hard to shock. Driving our mamas and papas insane.
• I remember admiring the sci-fi storytelling on "Five Years". And my favourite line was "The queer threw up at the sight of it". And at the time I never thought I'd need so many people.
• I remember using the sleeve of The Rise and Fall of Ziggy Stardust and the Spiders from Mars for rolling joints. Keep your electric eye on me, babe.
• I remember "The Jean Genie" and thinking that he loved Jimmy Stacks, although the lyrics are actually "chimney stacks". Still, like many of us, he loves to be loved.
• I remember someone saying that Ziggy and the Spiders were based on the Jimi Hendrix Experience. Jamming good with Weird and Gilly. After all, Hendrix also played it left hand.
• "All the Young Dudes" is the only song by Mott the Hoople that I remember. And to me it always sounds better when I've drunk a lot of wine and am feeling fine. And for half my life I must have been in love with its "juvenile delinquent wrecks".
• I remember thinking that the line "falls wanking to the floor" from "Time" on the Aladdin Sane album was amazing. Quaaludes and red wine.
• I remember Bowie saying something stupid about Nazis, and about a new fascist dictatorship. And being photographed giving a Hitler salute. Maybe in the Melody Maker. Or was it the New Musical Express? Embarrassing. File under cocaine psychosis. As I inhaled another cigarette, a thought skipped across my mind: Oh no love! You're not alone.
• I remember seeing The Man Who Fell to Earth at some student all-nighter. The only scene I can still visualise is when Bowie pulls his eyes out and the Mary-Lou character pisses on the floor. And Gene Pitney, remember him?, well on the soundtrack he sang: "Sweet Mary-Lou, I'm so in love with you."
• I remember seeing Bowie clones on the television. But don't recall what time it was and whether the lights were low.
• I remember staring at the sleeve of Diamond Dogs, then listening to the album and drifting off while I daydreamed about dystopian landscapes. Woof, woof. Howl.
• I don't remember anything about Young Americans.
• I do remember Low, and "Always Crashing in the Same Car". Going round and round.
• I remember listening to "Heroes". And then again. And then again. And then again. And then yet again. And not just for one day.
• I remember liking the fact that Lodger has a track called "Look Back in Anger". Very sane it seemed to me.
• I remember wanting to go to Berlin because I'd heard that Bowie was living there.
• I remember dancing to, well, "Let's Dance". My friend Ross was a big guy and a much better dancer than me. When he danced to "Modern Love" or "China Girl" at the squat he was living in during the early 1980s he seemed to my addled brain to take up a whole wall. As I watched, I felt tragic like I'm Marlon Brando…
• I remember the video of "Ashes to Ashes" on MTV, and hearing that "Major Tom's a junkie". I wasn't surprised. I knew about metaphor. Well, now I'm happy. Hope you're happy, too.
• I remember hearing that Bowie had had surgery to his nose because he'd snorted so much cocaine. But maybe that was just a rumour.
• I remember thinking that Absolute Beginners was shit. Nothing much to offer.
• I remember I had to laugh when in Kevin Elyot's My Night with Reg, the character Daniel — played by John Sessions in the original production — puts on "Starman". Hazy cosmic jive indeed.
• I remember watching Life on Mars because of the title. I suppose it was the best selling show.
• I remember showing my American students footage of Bowie performing at Glasto in 2000. He sings "Heroes" but at first he's so slow it feels as if he's on barbiturates. So the shame was on the other side.
• I remember missing the V&A's exhibition, David Bowie Is, because I was convinced it would be too crowded to see anything.
Yes, these are just some of the things I remember about David Bowie.
© Aleks Sierz