My Night with Reg, Donmar Warehouse
Wednesday 6th August 2014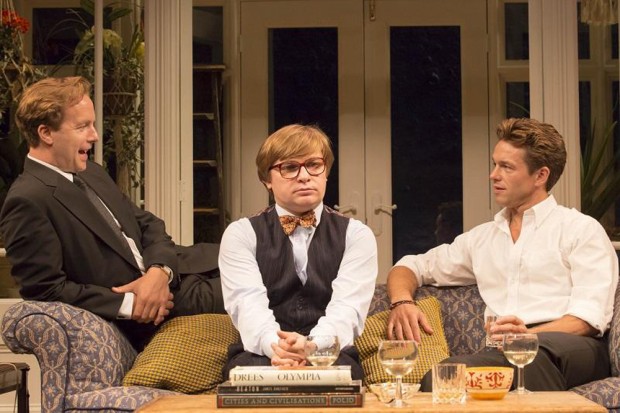 Lots of playwrights produce mediocre work — and then one play of genius. Kevin Elyot, who died in June, is best known to the general public as the writer whose television adaptations of Agatha Christie crime novels were undoubted hits. But he also wrote one exceptional play: My Night with Reg. This was a hit for the Royal Court in 1994, and is now revived at the Donmar Warehouse.
When it originally transferred to the West End the piece sparked a controversy in the London Evening Standard about a so-called "plague of pink plays" — a ludicrous idea since there were only two plays involved (the other was Beautiful Thing). Some plague. In many ways My Night with Reg is a classic straight play, except that it happens to have gay characters. The set is as traditional as can be: a room with a sofa and some French windows (lovely restrained design by Peter McKintosh).
This is the ground-floor flat of thirtysomething Guy, who is having a small party, and the opening scene is a beautifully observed comedy of awkwardness as his first guest, the spoilt rich boy John, arrives early and it emerges that neither has seen the other for ages. Anecdotes about university sit next to uncomfortable pauses. Guy comes over as a young man who is disappointed in love. Although he is powerfully attracted to John, the latter is in love with Reg, who is the partner of his best friend Daniel, a much more flamboyant gay — with a great line in jokes and putdowns — who has also been invited to the party.
This knot of love untangles over the rest of the 110-minute play, which spans about four years. Reg never appears on stage, but he is always present — everyone, and not just John, seems to have had sex with him. But because this rampant sexuality takes place during the era of HIV-AIDS, at a time when there was no cure, an air of mortality hangs over the story.
Elyot's play is traditional in its setting, but its form springs some surprises and its chief strength is its beautiful tonal shifts from embarrassment to hilarity to seriousness to black humour to resigned sadness. The jokes are excellent and Elyot's humanistic sympathies are evident in his portrayal of all of the characters, who also include one long-term couple, Bernie and Benny, and the teenage Eric.
So empathetic is the playwright's understanding of the lonely Guy, the languid John and the lush Daniel that I was reminded of another gay writer who was always able to convey a deep sense of his creations' repressed emotions: Terence Rattigan. Like Rattigan, Elyot was a craftsman — and My Night with Reg is lovingly written and perfectly structured. It also represents the last hurrah for a particular kind of gay play. Two years after its arrival, a new wave of playwrights — led by Mark Ravenhill — began to pen queer dramas that are much more cutting edge than those of people such as Elyot.
And, despite its brilliance, there are some aspects of My Night with Reg that could be objectionable. It's traditional not only in its focus on the scourge of HIV-AIDS, but also in its representation of gay people as being obsessed only with sex. Apart from brief discussions about cooking, conservatories and home furnishings, all these characters ever talk about is sex. There are no other subjects: no parents, no pets, no politics. No issues except sex. It's a classic "me and my mates" play.
At the same time, love is — unsurprisingly — the most powerful four-letter word. But are these gay characters happy? No. Once again, gays on stage are shown as love-sick, devious and — in a couple of cases — killed off by their own sexual desires. With one exception, no one ends the play in a better place than he started it. There's a feeling of resignation that hangs over the piece, and this has a slight whiff of reaction.
Rising new talent Robert Hastie directs with care and a firm control over the evening's pace: the great set pieces, which include dramatic revelations and a fine moment of singing along with David Bowie's "Starman", are perfectly realised. His cast do him proud: Jonathan Broadbent is warmly touching as the lonely Guy, while Julian Ovenden's charming John contrasts nicely with Geoffrey Streatfeild's camp Daniel. There's fine support from Richard Cant and Matt Bardock as the older couple and from Lewis Reeves as Eric. All in all, this is a fine five-star show.
© Aleks Sierz