Travelling Light, National Theatre
Wednesday 18th January 2012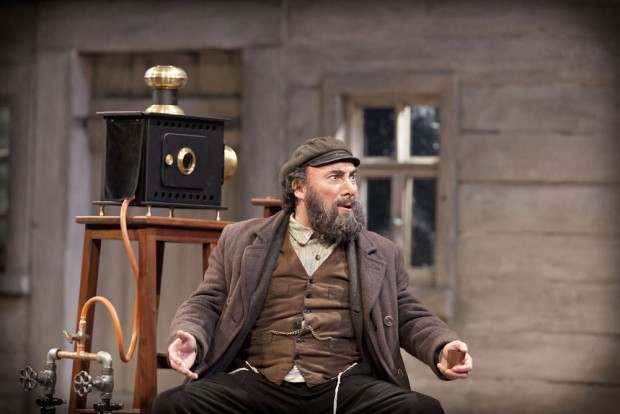 Russia is more integral to British theatre than any other Continental country. Not only has it given us Chekhov and Bulgakov, but it also provides a library of stories that remain powerfully suggestive and resonant. Two recent plays — The Kreutzer Sonata and Travelling Light — explore the cultural and historical landscape of Eastern Europe and show the continuing relevance of pan-national modernism.
Set in Russian-occupied Eastern Poland, Nicholas Wright's new drama, Travelling Light, evokes the early years of film-making. Using the form of a memory play, Wright introduces us to Maurice Montgomery, a Hollywood director, who looks back from the 1930s to his youth in a pre-war shtetl, a place where the clash of different cultures — Jewish, Polish and Russian — created a melting pot of creativity.
The young Motl Mendl, as he was originally named, returns to his village after the death of his father, the local photographer, and discovers a Lumiere Brothers Cinematograph, which he soon uses to film his neighbours. Financed by Jacob, a timber-merchant, Motl is inspired by Anna, a Gentile servant, and together in some of the evening's most enthralling scenes they discover the possibilities of close-up, montage and editing. But filming friends and neighbours doesn't get you very far, and soon they embark on a fictional story.
Of course, in real life, movies were not discovered by one person in one place, but evolved in several different locations through the creative meeting of new technological possibilities and the demands of the mass market. But this parable of artistic vision and the dawning imagination is at first enormously suggestive, and nicely mixes humour with illustrative film projections.
In the second half, Motl turns out to be much less illustrious that we might have at first believed, and Wright creates an imaginative ending to his play that artfully ties up the loose ends in the manner of a master storyteller. It's not very plausible, but it is enjoyable. The charm of the play is that is stimulates and entertains, but without stretching the audience. Like its title, it travels lightly across the terrain from Eastern Europe to America.
Watching the birth of a new art form like this feels a bit miraculous and, in common with plays such as Terry Johnson's Hitchcock Blonde, the account given here suggests that modern movies from the beginning necessitated a compromise between artistic integrity and populism. And knowing mirth is derived from showing how money problems and interfering producers were there from the start.
Directed by Nicholas Hytner, it stars Antony Sher as Jacob, Damien Molony as Motl and Lauren O'Neil as Anna. If there is a tendency for Sher to hover on the brink of Fiddler on the Roof cliché, this is partly because that musical and the art of Marc Chagall have so successfully imprinted their vision of shtetl life onto our imaginations that it is difficult to eradicate them. But if the production sometimes feels a bit inauthentic in its portrayal of Jewish life, it remains a good account of how the preoccupations of some Eastern Europeans stamped their mark onto the Hollywood dream machine.
© Aleks Sierz