The Stepmother, Orange Tree Theatre
Friday 8th February 2013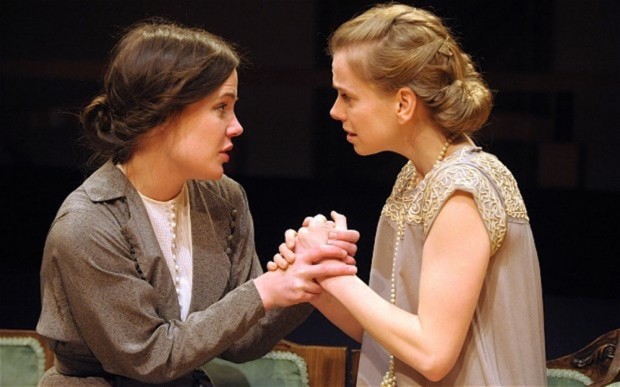 Much of new writing in British theatre is socially progressive — if you stage plays that deal with social issues, the clear implication is that something can be done to improve such conditions. This was as true in the 1920s as it is in the 2010s. One recent play points up the similarities and contrasts between engaged drama then and now.
Githa Sowerby's 1924 play, The Stepmother, is a real Orange Tree Theatre discovery, having been staged for only one performance during its author's lifetime. Although best known for her 1912 play, Rutherford and Son (currently being revived by Jonathan Miller for Northern Broadsides), she was both an acclaimed children's author and a perceptive critic of male privilege, being a member of the Fabian Women's Group.
The Stepmother is a family play which begins with the plight of 19-year-old Lois, a lady's companion whose employer has just passed away. Unknown to the young woman, she has just inherited a fortune, much to the chagrin of her mistress's brother, Eustace. By the second scene, set 10 years later in 1921, Lois is the wife of the scheming Eustace, who has seized control of her wealth.
As Lois works long hours to build up her own dress-making business, the conflict with her husband comes to the boil over her step-daughter, Monica, who wants to marry Cyril, son of a local lawyer. Since this young couple have few funds, Lois wants Eustace to give them part of her inheritance, which she takes a while to discover has already been lost.
This is a traditional well-made play which builds up to a satisfying climax which also involves Peter, a family friend who is in love with Lois. By including the character of the elderly fusspot Charlotte, Sowerby is able to show three generations of women, and their reactions to questions of money, sex and power. She also deftly subverts traditional images of cruel stepmothers by giving Lois a friendly and attractive personality.
Lois makes a long and painful journey from innocence to self-assertion. But although she does grab hold of her own destiny, she never quite manages — despite one incident which happens during an emotional emergency — to become an independent sexual being, a real equal to a man. There's a prudish and puritan sensibility in the play which Sowerby never really shakes off. It's very English: very Surrey commuter belt. In addition to this, the story's ending could do with a more decisive edge.
Yet despite these minor blemishes, The Stepmother is an interesting, clear-sighted account of the position of women in the 1920s when, despite reforms in the law, the real domestic power was still in the hands of men. It shows just how insidious male control can be and the emotional costs of self-assertion by women. Sam Walters's well-judged staging, designed by Katy Mills, has good performances from Katie McGuinness and Christopher Ravenscroft as Lois and Eustace, plus a solid supporting cast. It speaks to us plainly over almost a century.
© Aleks Sierz