The Low Road, Royal Court
Wednesday 27th March 2013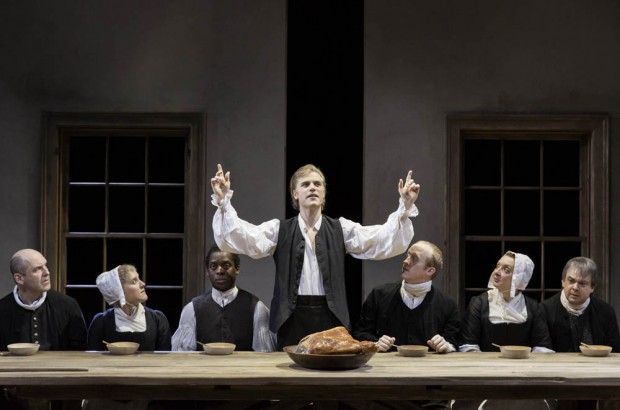 "My honest instinct," says Jim, the hero of Bruce Norris's The Low Road, "is one of resentment." And while this contemporary fable of industrious bees, aka capitalist speculators, is set in the past, and is full of good jokes, it is also laced with emotions that are a tougher sell. Here the humorous tale of a life of entrepreneurship comes hand-in-hand with some satire that is bitter as well as being funny.
Beginning, like so many 18th-century English novels, with the finding of a foundling child, the play offers a snapshot of Massachusetts in 1759. The parentless baby (sired by one G Washington!) grows up, in a tavern that is also a brothel, to be Jim Trumpett, a young man with a head for figures. By the time he leaves home, the American Revolution is brewing, and his entrepreneurial skills are soon put to the test. Not surprisingly, from the playwright who gave us Clybourne Park, the issue of race is soon tackled as he buys a black slave, John Blanke.
In a kind of parody of Brechtian theatre, one outrageous incident follows another, with the audience led by a narrator, Adam Smith — yes, the Adam Smith — who is on hand to explain the twists of the story. It's a dazzling canvas: local farmers, cheerful whores, European soldiers, religious utopians, competitive highwaymen, slave traders, financial speculators and French investors. The jokes come thick and fast, and the huge cast of characters push the events forward with scarcely a pause for breath.
Predictably enough, the capitalistic speculator Jim Trumpett is opportunistic, argumentative (he doesn't like taxes), takes mad risks and has to cope with amazing reversals of fortune. At the same time, Norris is mischievously arguing that the role of chance in history should not be underestimated, while also insisting that the creation of wealth owes less to Adam Smith's "invisible hand" of the market, and more to sharp practices and ugly exploitation.
Much of this provokes laughter, yet these easy roars, while pretty loud, also feel very unchallenging. Sacred cows are brought on stage and threatened with instant death, but never actually slaughtered. Despite some powerful images — Jim and his slave John shackled together, a female highwayman, then amateur actors putting on a clumsy show about slavery — none of this is as good as Lucy Prebble's Enron, Martin Crimp's In the Republic of Happiness or Norris's own Clybourne Park.
By the middle of the second half of an evening that lasts three hours, a certain weariness sets in. The scenes that underline the relevance of these historical fictions to today's economy seem unnecessarily didactic, and the final coup de théâtre is memorable but a bit pointless. As directed by the venue's artistic director Dominic Cooke, his last show before he leaves next month, much of this is pleasantly entertaining, and the most of the jokes are good, but isn't there also a whiff of complacency and self-congratulation about the whole affair?
Cooke certainly has not stinted on resources: the production has a confident carnivalesque vitality and the cast is huge. Johnny Flynn as Jim and Kobna Holdbrook-Smith as John are both highly personable, but their characters are about as deep as the cardboard moon that is used for the night scenes. Other actors — from Bill Patterson (Adam Smith) to Elizabeth Berrington (Mrs Trumpett and two others), and John Ramm and Ian Gelder (multiple parts) — are fun without being profound. For me, The Low Road feels like a low point.
This review first appeared on The Arts Desk