The Local Stigmatic, Old Red Lion Theatre
Tuesday 10th May 2016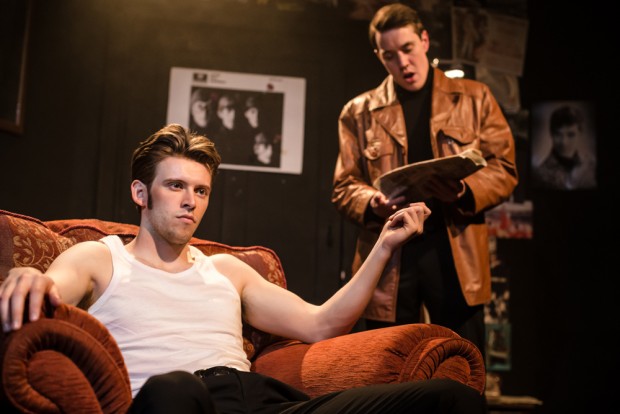 Heathcote Williams — counterculture personality, poet, playwright and polymath — is one of those great English phenomena: the completely unrestrained eccentric. And for that reason, he always has a place in my heart. I remember meeting him some 30 years ago, and being charmed by his wit, his smiles and his cool. Then I remember chairing a panel discussion about his 1969 play, AC/DC, at the National (100 plays of the century) in 1999. This bizarre play started with some zany cluster fuck, and then went off into all this stuff about mind transplants, psychic wandering, telepathy and terrorism. Drugs were involved. And sex. Big wow.
So I was really intrigued by this revival of The Local Stigmatic, Williams's 1966 play about two young working-class men, which was first staged at the Traverse in Edinburgh in its early days. Has it dated? No, on its 50th anniversary, it comes out of the traps as frisky and as emotionally fraught as it must have seemed originally. Made into a film in 1990, starring Al Pacino of all people, it feels like a little poisonous seed that has been dropped into the bed of normal everyday life, and left to grow…
The story is simple: Ray and Graham share a squalid London flat, here given the acrid taste of a smoky polluted world. On the walls are pictures of people like Twiggy torn out of 1960s Sunday supplements, and an early Beatles poster. On the soundtrack comes the unmistakable chords of "Dead End Street", by the Kinks: "There's a crack up in the ceiling,/ And the kitchen sink is leaking./ Out of work and got no money…" Perfect setting. The two men spend their time talking about betting on the dogs, and reading about famous people in the gossip pages of the newspapers.
Quoting Winston Churchill's description of dog racing as "animated roulette", Ray and Graham dispute pundits' tips, in an atmosphere of frustration that promises violence. When we first see Ray, he's pummelling the dirty armchair. There's some sexual tension in the air, a woman called Sharon is mentioned, and then the boys go out. They bully a local blind man, then meet an actor, a minor celebrity, at one of the pubs that will still serve them. Williams's shows how the obsession with fame comes from the natural desire for validation, which when perverted by poverty leads inexorably to violence.
The characters are both distinct: with his starring eyes, Graham is both fixated and compulsive; Ray is cooler, more absent. The kids are definitely not alright. And the sun ain't gonna shine anymore. At one point, they read a newspaper article which asks celebrities: "What would you do if you only had 60 minutes to live?" They mock the replies, but you feel that, if they were in that situation, they would wreck havoc. When Graham says, "I wouldn't touch you with a sanitary towel" the vividness of the playwriting and its representation of juvenile psychology rings loudly in the air — this is surely a precursor of Philip Ridley and Alistair McDowall.
Michael Toumey's energetic production uses atmospheric red lighting and a great 1960s soundtrack to tell this cruel and sadistic tale. The actors are nicely contrasted: Wilson James's Graham is hyper hot, wound up and dangerous (reminded me of a fist with straining white knuckles) while William Frazer's Ray is cool, detached and unengaged (a limp open palm). Tom Sawyer gives good support. But some passages are a bit too shouty, and, at barely 60 minutes of running time, the feeling is that, despite the vigour of the dialogues, The Local Stigmatic's storytelling is a too sketchy. But as a glimpse of nastiness, it remains strong meat. And it's worth seeing for the simple reason that it reminds us how strange, dark and untameable leftfield new writing can be — long may it thrive!
© Aleks Sierz