The Father and the Assassin, National Theatre
Friday 15th September 2023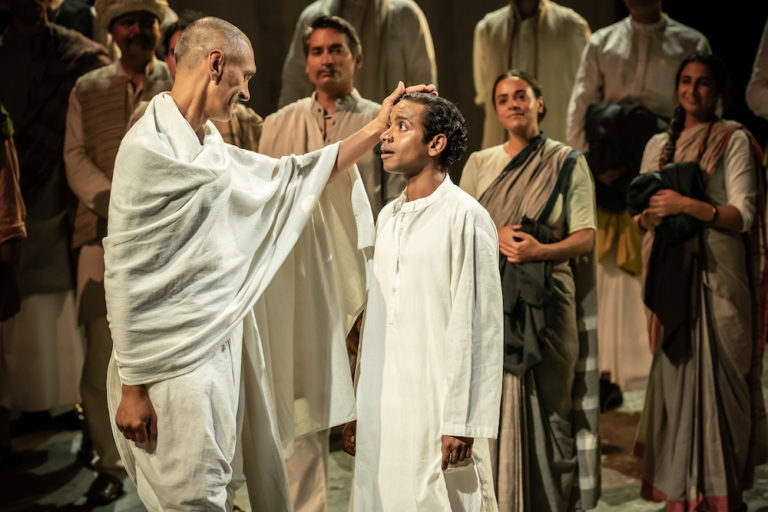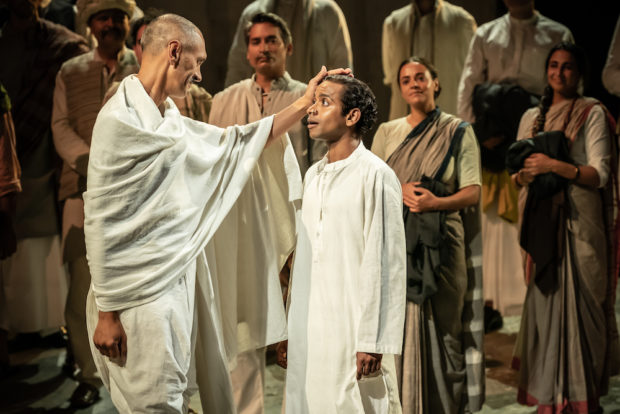 Nobodies who kill somebodies: let's make a list. Okay, there's Lee Harvey Oswald (JFK), James Earl Ray (MLK) and Mark Chapman (John Lennon). But what about the man who shot Mahatma Gandhi? What was his name? The fact that Nathuram Godse is relatively unknown, at least in the West, while Gandhi is a household name, is one of the motivations behind Anupama Chandrasekhar's epic history play, which was first staged at the National Theatre last year, and now returns, this time with Olivier Award-winner Hiran Abeysekera (Life of Pi) as Godse and Paul Bazely reprising his role as Gandhi. But as well as being a dazzling account of Indian history in the first half of the 20th century, it is also a meditation on fact and fiction.
Because not much is known about Nathuram Godse's life, Chandrasekhar has been free to invent a biography which involves, she explicitly says, "some dramatic licence", eliding years and events to make the storytelling smoother. She also imagines a fictional series of parallel meetings between Gandhi and Godse as their lives develop in tandem, the former a famous leader of the national movement for Indian independence and the latter a complete unknown local trouble-maker. For the purposes of the drama she makes the relationship between the assassin and his co-conspirator Narayan Apte, which in reality just lasted for a few years in the 1940s, one that stretches back into their youthful agitation in the 1930s.
Because of these fictional elements, The Father and the Assassin offers a powerful account of the struggle for Indian independence. Chandrasekhar tells the story from Godse's point of view, with his direct address to the audience and narrative monologues driving the action. Her writing is direct, clear and impassioned, and her invention of the assassin's personal voice makes the evening a compelling theatrical experience. Godse's extreme Hindu nationalism, which took inspiration from Hitler's Nazism and was violently antagonistic to Muslims, is forcefully, and chillingly, articulated, and contrasts well with the more familiar language of Gandhi, who favoured a more tolerant and multicultural solution to India's problems.
The few details of Godse's life that are known are unusual. He was born in 1910 to an orthodox Brahmin couple in western India. Because they had lost three other infant boys, but had a healthy daughter, they believed that the male kids were cursed by the gods so they brought Nathuram up as a girl. As a child, he/she was regarded as an oracle and would prophesy the future of anxious relatives, although this talent waned after puberty. When the family moved to Ratnagiri, the young Godse fell under the spell of Vinayak Savarkar, a violent Hindu extremist who had served time in the appalling British prison in the Andaman Islands.
The play develops by contrasting the Savarkar-inspired Godse — all fiery rhetoric and anti-Muslim prejudice — with the father of the nation, Gandhi, and his non-violent movement, which was more inclusive and which saw the Partition of India and Pakistan on independence in 1947 as a disaster. Godse's boiling resentment about both the creation of a Muslim homeland in Pakistan, and the tensions in multi-religious Kashmir, and his ugly nationalistic posturing are both a study of personal mental toxicity and a reminder of the scars of British imperialism, which impoverished the continent and left a legacy of communal violence.
As well as this huge historical sweep, Chandrasekhar focuses on telling domestic details, showing not only Godse's parents, but also his childhood friend Vimala, who becomes a warmhearted follower of Gandhi, while Godse turns into a nasty activist who tries to exclude her from his story, a process which shows how political prejudices shade into the personal of toxic masculinity. Today, the assassin would be an incel. Out of these individual resentments, and his failure as a worker and even as a political activist, comes the aggression that culminates in the three pistol shots that kill Gandhi in January 1948. Godse's conclusion that the Mahatma must be punished because he betrayed India is the familiar stuff of paranoid nationalism everywhere.
So while The Father and the Assassin is a dazzlingly epic theatre show, it also has contemporary resonance because, today in India, Narendra Modi's BJP party has been encouraging Hindu nationalism, with statues of Godse being suggested, and a fierce mood of nationalist extremism growing. Of course, similar populist attitudes can be found closer to home, and the play even has a good joke about Brexit. What is so taboo-breaking is the fact that Chandrasekhar makes her murderer both unrepentant and hugely energetic, introducing himself by saying things to the audience like: "Take a good look — you've paid good money to be here", and mocking us for our "British scepticism".
The effect, in Indhu Rubasingham's thrilling production, is akin to complicity — by understanding his feelings and motivation, we grow to almost like the bragging murderer. As performed by the wonderful Abeysekera, with a knowing sparkle when addressing the National's audience, Godse is a charismatic figure whose charm and passion dominates the stage, while Bazely's Gandhi is calmer, softer and more saintly. In the battle between good and evil, the baddie gets the best lines and has the greatest stage presence. In truth, the conceit of the play is that the nobody is nearer to us ordinary people than the greater somebodies of history can ever be.
On designer Rajha Shakiry's revolving stage, with a background which evokes spinning and weaving, a cast of about 20 create the big historical marches, rallies and disasters, as well as the intimate family scenes and political maneuverings. As well as Abeysekera and Bazely, there are excellent performances by Ayesha Dharker as Godse's mother and Aysha Kala as Vimala. Sid Sagar plays Apte, his buddy accomplice, with suitable cheer and Tony Jayawardena is the sinister Savarkar. Of the more well-known leaders, Marc Elliot plays Nehru and Nicholas Khan is Jinnah. With its dark comedy and majestic historical sweep, which takes in farm protests, massacres and the salt march, this play is a brilliant demonstration of the potential of the National to both entertain and educate.
This review first appeared on The Theatre Times