The Changeling, Young Vic
Thursday 16th February 2012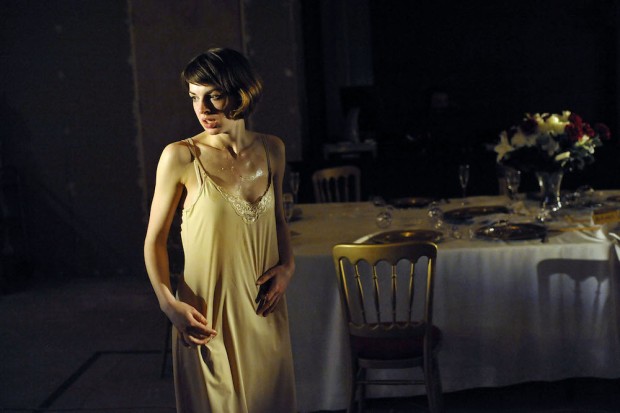 In an age of austerity, do audiences want more nostalgia? Do they demand more fun? At the moment, London stages are ringing with the happy laughter of farces, comedies and feelgood plays, and while audience numbers are falling slightly, the profits from ticket sales continue to rise. Seat prices are going up. At the same time, the past seems to be more alluring than ever. When the future looks horribly uncertain, looking back seems like a good survival strategy. But does it make for good theatre?
One kind of theatrical past that is regularly pillaged for contemporary resonance is the revenge tragedy of the Elizabethan and Jacobean eras. This theatre of the extremes, with its perverse sexual desires and relish in violence, seems to anticipate the in-yer-face sensibility of the present decades, although it also makes demands on audiences because of its difficult gnarled poetry and overt religious morality.
At the same time, equally evident is the current taste for modern-dress productions. William Shakespeare's The Taming of the Shrew at the RSC is in modern dress and so is John Webster's The Duchess of Malfi, with Eve Best, that is coming to the Old Vic in March. Likewise, Cheek by Jowl's new production of John Ford's 'Tis Pity She's a Whore is decked out in suits and skimpy skirts. So pervasive is this tendency that seeing a revival in period costume would almost be a relief.
Joe Hill-Gibbins's modern-dress version of Thomas Middleton and William Rowley's The Changeling (1622) emphases the contemporary flavour of this Spanish tragedy. When the heroine, Beatrice-Joanna, falls in love with Alsemero, she has to confront the problem that she is engaged to another man. The solution is to employ De Flores, a servant whose face is disfigured with skin disease, to bump off the fiancé. But when it comes to settling the accounts, De Flores wants sex rather than money.
In the subplot, Antonio, a wealthy man, pretends to be mad in order to enter a mental hospital and seduce the wife of its manager, who keeps her under lock and key. In this version, Antonio arrives in a wheelchair and, wearing a pink safety helmet, and fakes the symptoms of a brain disease. Thus, while Beatrice-Joanna attempts to set up a bed trick that will hide the loss of her virginity from her new husband, madness and desire are united in an unholy embrace.
On a set in which gym mats, pop-up tables and netting decorate a dismal warehouse space, all designed by Ultz, the action of the play hurtles along in a radically cut and mashed up version which last barely two hours without an interval. In the asylum scenes, the inmates are heard banging from the insides of cupboards or boxes, and the wedding is a hideously exciting pop dance sequence with music from Beyoncé as well as La Boheme. Sex is enjoyed in a welter of strawberry jelly and custard, which remind us of blood — of which there is also plenty — and sperm. At times, the effect of this updating is slightly laughable, but the production has a frantic energy and a vitality of conception that is in the end persuasive and relevant.
This vision of sexual desire contaminating a society from within, with the rich as much the victims of uncontrollable forces as the poor seems to chime with current fears and preoccupations, and the cast — led by Call the Midwife's Jessica Raine as Beatrice-Joanna and Daniel Cerqueira as De Flores, with good support from Kobna Holdbrook-Smith and Charlotte Lucas — deliver committed performances. Much of the poetry of the original is lost, but the poetic justice of the story comes across loud and clear.
© Aleks Sierz