Scorched, Old Vic Tunnels
Monday 6th September 2010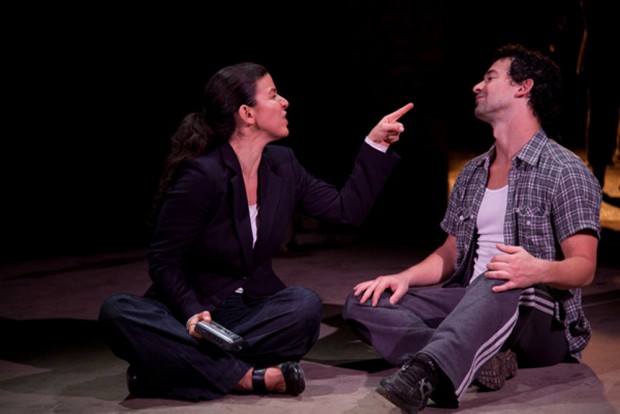 Is it an example of our cultural insularity that no one I know has ever heard of Wajdi Mouawad? Born in Lebanon, he's the most performed contemporary French-language playwright and his 2003 masterpiece, Scorched, has been staged all over the world. You'd think that the National Theatre would be begging to produce it, but no, that honour has fallen to Kevin Spacey's Old Vic. Not for the first time, a state-funded venue has been trumped by a commercial one. In a bold production by Dialogue theatre company, which opened tonight at the Old Vic Tunnels, a performance space under Waterloo station, Mouawad emerges as a highly intelligent and powerful chronicler of war.
The plot is a quest story. After the death in France of their mother, Nawal Marwan, her twin children, Simon and Janine, find out — during an awkward reading of her will — that she has bequeathed them a couple of difficult tasks in her last testament. The first is to track down their father; the second is to find their brother. Since both twins thought that their father was dead, and neither knew they had a brother, this is a bit of a shock, to put it mildly. As Simon says, mother was, and is, "a pain in the arse".
Both react differently: Janine, a student of pure maths, soon shakes off her surprise and embarks on a quest to the Middle East to seek out the truth about her mother. By contrast, Simon, a boxer, channels his anger into the ring. Using a series of flashbacks, Mouawad then sketches out the life of Nawal, who grows up in war-torn Lebanon and experiences the horrors of civil war while on her own quest to find the child she bore at the age of 15, and which was given away by her family.
Simon Scardifield's workman-like translation brings out the themes of this strongly felt play: the search for identity, the dignity of silent protest, the importance of ritual in the commemoration of the dead, the transformative nature of education, the disruptive effects of song. Unsurprisingly, the desire of Nawal to learn to read and write contrasts with the ignorant prejudice of her family and her home village. The horror of war is vividly evoked and roundly condemned. Janine's theories of pure maths turn out to have a remarkable relevance.
Director Patricia Benecke's atmospheric production is well designed by Naomi Dawson and brings out strong performances by a cast led by Sirine Saba as Janine and three actors who play Nawal at three stages of her life: Jennifer Kidd, Caroline Loncq and Jennie Stroller. Patrick Driver is similarly good as the linguistically challenged lawyer and Richard Simons embodies Simon's angst. But, more than the acting, what you remember is the visual and audio flair of the staging.
Evocative chanting creates a sense of unhappy distant lands, while at one memorable moment a water jet suggests machine-gun fire, and likewise, at another, the noise of roadworks doubles as the sounds of warfare. A dancing rock singer turns out to be a sniper and a bucket is both the saving of a child and holds the water that is poured into a grave. Tape recordings of silence are paired with phone calls that are not answered.
At times, the production struggles to fit comfortably into a subterranean space where the rumble of overhead trains can't always be rationalised as the sounds of distant bombs. But never mind. Benecke, who introduced audiences to Mouawad's work when she staged his less successful Wedding Day at the Cro-Magnons in 2008, has done him proud this time. With its sense of horror at the savagery of conflict, its notion of victims who are complicit with their torturers, and its vision of endless bloodletting, Scorched is a powerful account of human destructiveness that testifies to the terrors of war and yet glimpses the consolations of hope.
This review first appeared on The Arts Desk