Penelope, Hampstead Theatre
Thursday 17th February 2011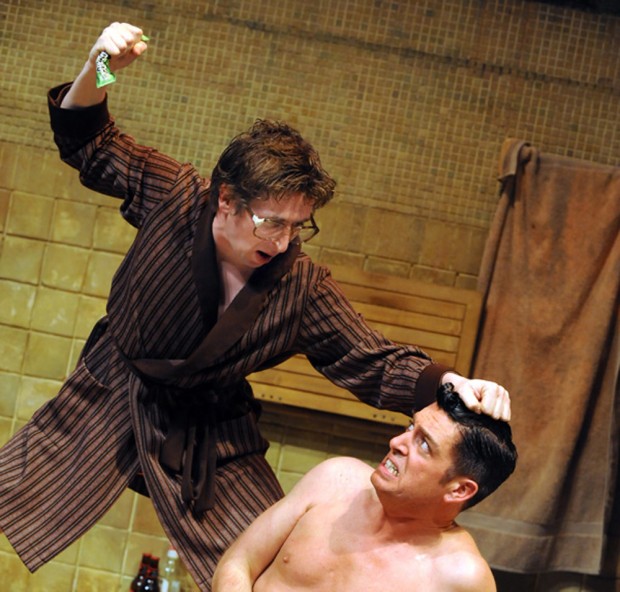 Men. They say these strange creatures never leave the playground. Even when the years have passed, boys stubbornly remain boys, chatting rubbish, competing manfully and finally burning out. In Enda Walsh's Penelope, which was a hit at the Edinburgh Festival last year and now visits London, four men compete for the love of one woman, and they are as likely to be found bickering over a small barbecued sausage as they are to be seen fighting to the death with knives. The only question is: can they also work together?
Penelope, produced by Galway's Druid theatre company, was commissioned by Theater Oberhausen in the Ruhr valley (European Capital of Culture last year), as part of a project which asked five European playwrights to tackle The Odyssey. Walsh's play, originally enough, is about the suitors of Odysseus's wife, who in Homer's epic poem spent 20 years unsuccessfully trying to seduce her — only to be massacred by the returning hero. But in Walsh's minimalist take on the story, the suitors are down to four in number, Irish businessmen who spend their time in a sweltering, dried-out swimming pool, somewhere in Greece. Penelope, the ageless object of their hopes, is out of reach, watching and listening to them via CCTV.
Boredom, as many an Irish playwright has discovered, is a container whose capacity is infinite, and, while they wait for their end, Quinn, Dunne, Fitz and Burns fill it with their dreams and fantasies. It is party time in the pool, so the drink flows and silly hats are worn, but there is an edge to the men's games: they know Odysseus is about to return, and the clock is ticking. It's their last chance to seduce Penelope: if they fail, it's curtains. So while they might clown around, and surreally compare the mystery of the mother and son relationship with the mystery of yeast, their banter strikes a note of regret: suicide is mentioned, as well as the evocative "thievery of autumn".
The first to attempt a final seduction is Dunne (Denis Conway), the bearded brains of the foursome. Although he is conscious of being a grotesque "fat man in Speedos", he is capable of launching a thousand poetic words, fuelled by passionate anger. But to no avail. Next up is the optimistic Homer-reading Fitz (Niall Buggy), who compares himself to "a fingerless fool filleting fish", ineffectual, boring, empty. Yet suddenly love transforms him into a truth-teller. But to no avail. The third seduction attempt comes from Quinn (Karl Shiels), a tough, unpleasant bully with a tattoo on his buttocks. Animated by a gigantic will to power, he scorns compassion and beats the tight drum of masculinity for all it's worth. He also delivers a hilarious show, which involves a breathtakingly fast quick-change extravaganza, in which he impersonates great lovers from history: Romeo and Juliet, Napoleon and Josephine, Rhett Butler and Scarlet O'Hara, JFK and Jackie. It's hilarious, but avails him not.
The final words, as Odysseus's ship reaches the beach and the sky darkens, are those of Burns (Aaron Monaghan), the play's depressed and servile loser. Emboldened by the desperation of their situation, he utters a paean to love and a plea for freedom. In him is embodied the man who is not afraid to love his friend as well as the object of his desire. His message: only love can save us. It is a good point and suggests that co-operation is possible, but it comes too late for these boys.
This 90-minute show, which is skilfully directed by Mikel Murfi, is full of verbal fireworks. Walsh sets off rockets that suddenly light up the imagination, then drops a couple of crude bangers that wake up the dialogue. Next, he lights a Catherine wheel, which wooshes madly for a few bright seconds. Then he follows up with Roman candles which cast a marvellous warm glow over the proceedings. Finally, handfuls of comic sparklers cheer up the evening. Whether you see Penelope as a metaphor for the collapse of the Celtic Tiger economy or as a study of masculinity in crisis doesn't much matter: this is an original, compelling and brutally humorous tragedy.
This review first appeared on The Arts Desk