No Man's Land, Wyndham's Theatre
Saturday 17th September 2016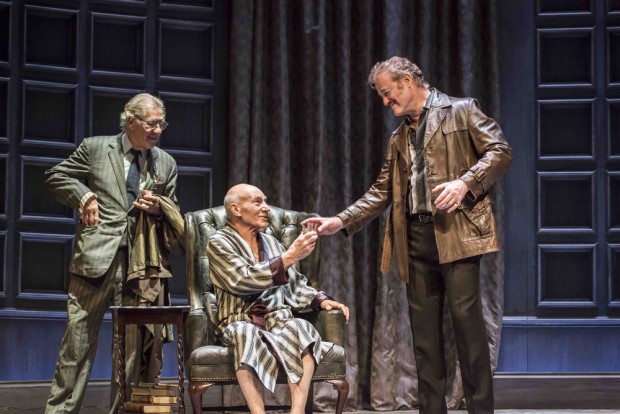 A funny thing happened to Pinter on the way to the 21st century. The difficult modernist playwright, who wrote obscure dramas in the tradition of Beckett and the absurdists, gradually became an easy West End entertainer. And if any star actors have helped him, and Beckett, achieve the theatre equivalent of easy listening, it must be Patrick Stewart and Ian McKellen (aka Picard/Xavier and Gandalf/Magneto in filmworld). In the latest instalment of the taming, and popularising, of Harold Pinter, Stewart and McKellen star in his 1975 play, No Man's Land, in a production where storytelling clarity takes the place of linguistic music.
As the curtain, decorated with Hampstead trees that are slightly troubled by a passing breeze, rises, we arrive in the classy home of Hirst (Stewart), a rich and powerful man who has invited a piss-artist, the impoverished Spooner (McKellen), into his elegant abode. But when, after a drunken evening, Spooner makes a bid to become Hirst's friend, he is thrown out by the other man, supported by his bully boys, Foster and Briggs. It is a study in ambiguity: Hirst is introduced as an eminent writer, but he runs through several identities: first, he's a almost speechless drunk; then he is a merry prankster who appears to share a university past with Spooner; then he becomes a Buddha, seated and watching a frozen world. His servants, Foster and Briggs, are thugs, but they love mind games. Spooner, the outsider, doesn't have a chance. As with his host, there much that is unclear about his identity: is he really a poet? Or does he just help out at a local bar? Is he a down-and-out? Or just a bohemian freeloader? Has he ever met Hirst before? This is an often comic play about how hard it is to genuinely know another person, and about how old age narrows the generosity and openness of our responses to other people. At its most metaphorical, it is timeless in its themes: look at Brexit and the migrant crisis — don't they make us all look like Hirsts?
Although Sean Mathias's production, lovingly designed in expensive greys and blacks by Stephen Brimson Lewis, tells the story clearly, cleanly and with great humour, it also raises some more troubling questions. Once upon a time, Pinter was performed with high seriousness as a modernist, challenging actors to deliver the music of his language and its significant pauses. Today, he is played in a much more accessible and humorous way. This is perfectly fine, but without the work's distinctive verbal music you have plenty of time to question the quality of this play, and, by extension, the relevance of modernism.
If innovative modernistic plays are no longer puzzling, no longer difficult and no longer strain audience comprehension, then what really is the point of them? The horrible suspicion arises that Pinter, and therefore Beckett too, might be over-rated writers who are now past their sell-by dates. Without the shock of the new, doesn't their absurdism feel a bit easy, a bit déjà connu, a bit trivial? Only asking. In the West End, their work feels less progressive and less radical than ever, and the ending of No Man's Land, with its image of a static existence "Which never moves, which never changes, which never grows older, but which remains forever, icy and silent" feels more than ever reactionary. And they claim that Pinter is a political playwright! Ha!
This version gets off to a very slow start, but — like Rupert Goold's in 2008 — picks up after the interval, when the acting springs into life. Because Mathias (like most British directors) plays things very straight, what lifts this essentially timid production is the acting. In the first act, McKellen's Spooner clutches his raincoat like a security blanket and offers a busy performance of ticks and shrugs. But he is too magisterial an actor to be thoroughly convincing as this failed artist, and it's not until Stewart makes his mark in the second half that the show begins to excite. Alternately benign and sinister, his Hirst exudes both the boredom and the threat of privilege, while Owen Teale (Briggs) and Damien Molony (Foster) tread the fine line between hilarity and menace. All four actors deliver some finely observed moments, and the drama does build during its two hours of running time, but however pleasurable as a study in ambiguity, this example of cultural populism seems to me to undermine its own modernist message.
© Aleks Sierz