Beautiful Thing, Arts Theatre
Wednesday 17th April 2013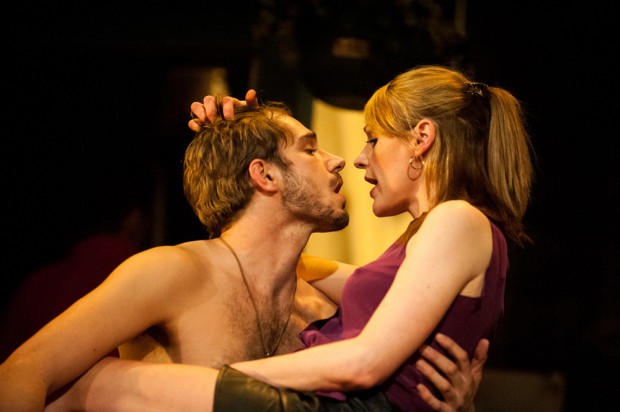 Some plays are game-changers. When Jonathan Harvey's Beautiful Thing opened at the tiny Bush Theatre in 1993 the joy that radiated off the stage was ample affirmation that this tale of puppy love had changed the face of gay plays for ever. Gone was dreary soul searching; gone was guilt; gone was militancy. Instead, we got fun, laughter and real heart.
Then came the culture clash. When, the following year, the play transferred to the West End, along with Kevin Elyot's My Night with Reg, the London Evening Standard inveighed against the corrupting "plague of pink plays". Not only was this vulgar prejudice, it was also poor epidemiology: two cases don't make a plague. A film version of Beautiful Thing followed and its status as a feelgood gay drama is now assured.
This 20th anniversary revival, which stars Suranne Jones (familiar from television's Scott and Bailey) is a timely reminder of the piece's virtues. Located mainly on the walkway of a Thamesmead council estate, three of the five characters are young teens: 15-year-old Leah (who is obsessed with Mama Cass, and has been chucked out of school), 16-year-old Jamie and Ste. Jamie's mother is Sandra (Jones), a barmaid, and her younger lover is Tony, more stoner than artist. Jamie and Ste are best mates and when the latter runs away from his violent dad Ronny, Sandra and Jamie take him in. He shares Jamie's bed and both boys discover their sexuality.
When this happens the audience utters an involuntary "Ahhhh". It's that kind of play. Initially, a lot of its joy comes from the character of the mouthy Leah. Her early offhand remark of "kids are cunts" sets the tone, and her rendition of "It's Getting Better" by 1960s icon Mama Cass is simply lovely. But the centre of the play is the gently blossoming relationship between the two boys.
Jamie and Ste explore their emotions with all the awkwardness of any teen, and they make you forget about the other issues that Harvey includes in his play: domestic violence, poor education and school bullying. On the press night, which was also the day of Thatcher's funeral, the moment when Tony spits on the floor after mentioning her name underlines the play's relevance.
But apart from its casual nod to politics, Beautiful Thing is really a soft-hearted play about young love, and about what we say or don't say to our parents. High points are a lovely scene when Jamie rubs balm into Ste's scarred back, which conveys a sense of how a loved one's pain can be erotic, and a hilarious parody of cop show Cagney and Lacey. Pulsing with upbeat music, this is an evening which balances joyous vulgarity and tender feeling.
Nikolai Foster's bouncy and colourful revival comes with a cast that positively radiates televisual overtones: as well as Jones, Waterloo Road star Zaraah Abrahams plays Leah, Hollyoaks heart-throb Oliver Farnworth is Tony and newcomers Jake Davies and Danny-Boy Hatchard are Jamie and Ste. This gives the evening a glitzy feel. It's also good crude fun, and some episodes are often surprisingly moving.
Along with current revival of Conor McPherson's The Weir at the Donmar Warehouse, this bright evening signals a return of 1990s plays to the West End. It's a decade that is impossible to forget and more and more of its top hits are being revived, proving that its preoccupations remain highly relevant.
This review first appeared on The Arts Desk