Mongrel Island, Soho Theatre
Thursday 21st July 2011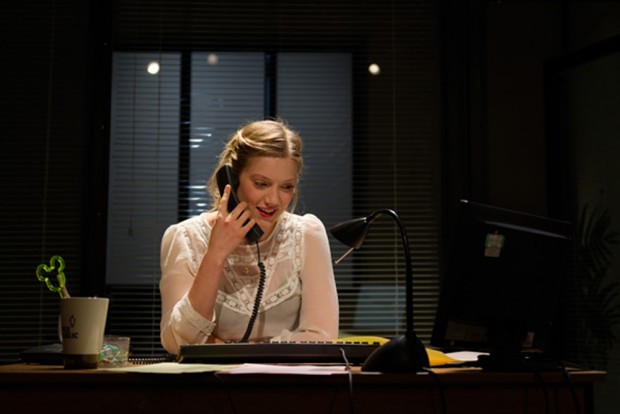 Imaginative plays that explore the expanses of inner space are all the rage at the Soho Theatre this summer. First there was a superb revival of Anthony Neilson's Realism, which puts on stage the thoughts of one man during a solitary Saturday, then there was Lou Ramsden's Hundreds and Thousands, which used a horror-film aesthetic to explore female longing. Now Mongrel Island, which opened tonight, looks at the thoughts and emotions of one woman who has a boring office job.
Using the same cast as Neilson's Realism, Ed Harris's 90-minute play focuses on Marie, a young woman who is on probation in an office which deals with the admin of the care system. You know the kind of thing: mechanical keyboard tasks, filing dusty folders and having tea breaks. Her colleagues are also instantly recognisable: Only Joe, the grumpy older man, Elvis, the trendy youngster, and Honey, their boss, whose fatuous team-building exercises are designed to boost morale.
At about 5pm, when the boss and fellow workers have gone home, Marie decides to stay behind to do some overtime (and get a couple of days off in lieu to help her recently widowed father). Then things start to go funny. The digital clock flips wildly, Elvis tells a story about a 7ft-tall scrimp called Jimmy, and an eccentric cleaner called Pippop arrives to start her shift. Like a contemporary Alice in Wonderland, Marie — played by the appealing Robyn Addison — watches with a combination of bafflement, wonder and painful emotion as her grey office is transformed into a surreal kaleidoscope. Here, rock 'n' roll numbers barge past metaphysical speculation, and jokes add zest to these red-eye nights.
If the world of work suppresses our individuality, then the dreamscape released when Marie falls asleep is an unpredictable scenario of hanky storms, multiplying ballet shoes, ominous music, pornographic fantasies, suicidal thoughts, folk tales, personal tragedy and sudden reversals of fortune, and good sense. Partly an impression of sleep deprivation, partly an account of a mind becoming unhinged, the play takes reality and gives it a good shake up. The effect is humorous, sad and very weird.
Playwright Ed Harris writes with a real feel for the repressed urges and palpable absurdities of daily life. He understands the emotional truth of deep rage, erotic attraction and the joys of fun and music. He is also alive to the desolate sensations of loss, a theme that flickers through the play like a faulty computer screen. Directed by the Soho's artistic director Steve Marmion — who has proved to be a great appointment — Mongrel Island is blessed with an excellent cast. As well as Addison, this includes Simon Kunz as the sarcastic and roaring Only Joe, Shane Zaza's zany Elvis, Golda Rosheuval's twitching Honey and Joanna Holden as the linguistically challenged Pippop. As ee cummings once wrote, "There's a hell of a good universe next door."
This review first appeared on The Arts Desk