Realism, Soho Theatre
Wednesday 15th June 2011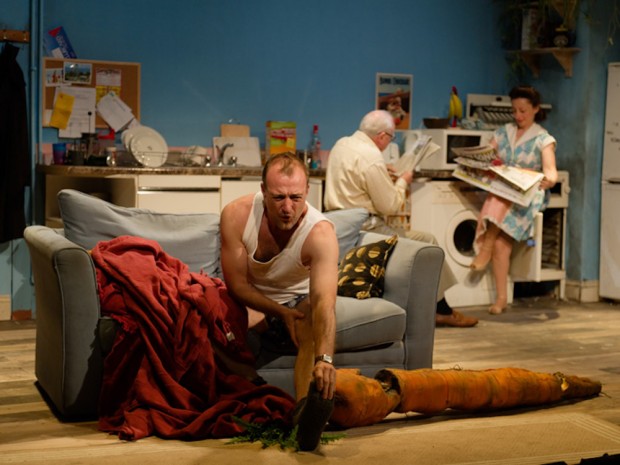 In theatre, venues are important. Everything is local. Everything happens in a particular space at a particular time. And one of the glories of British theatre since 1956 — the year that Look Back in Anger premiered at the Royal Court — is the growth of a group of specialist new writing theatres whose mission has been to find, develop and stage new writing talent. That means contemporary plays on subjects that really matter.
But strengths can be weaknesses too, and gradually the suspicion has arisen that some new writing venues are too narrow in their remit. But help is at hand. At the Hampstead Theatre, Edward Hall has taken an axe to the repertoire and included Shakespeare and revivals among his new plays. Similarly, Steve Marmion, the new artistic director of the Soho Theatre, has widen that venue's programming by including devised theatre and revivals.
For his debut in this role, he has chosen a playwright for whom he has a proven affinity (Anthony Neilson) and a play (Realism) which has been begging for a London production — and English premiere — since its first appearance at the Edinburgh International Festival in 2006 in a memorable version from the then newly born National Theatre of Scotland.
Originally published as a companion piece to Neilson's superb fantasia,  The Wonderful World of Dissocia, Realism shows a day in the life of Stuart, a loner who spends his Saturday sleeping, pottering about in his flat and doing household chores. Yet, like all of us, he has a vivid fantasy life, and the play shows his thoughts and daydreams. We see him talking to Mullet, a hyperactive childhood friend, interacting with his now dead mother, having a sexual fantasy and performing gloriously on the BBC's Any Questions and Desert Island Discs. He remembers his first girlfriend Laura and longs for his latest, Angie, with whom he has just broken up. Surprises include a sulky cat and a delightful koala bear.
Neilson's text is a surreal exploration of inner space, and this revised version not only buzzes with hilarious and transgressive moments — the Black and White Minstrel Show is a high point — but also makes references to current conflicts such as Libya. As with his work on Neilson's Edward Gant's Amazing Feats of Loneliness!, Marmion directs with imaginative sympathy and acute attention to detail.
Tim Treloar captures Stuart's juvenile self-pity as well as conveying the character's sense of loss, guilt and loneliness. Joanna Holden is his down-to-earth mother, and Robyn Addison (Laura) and Golda Rosheuvel (Angie) provide a neat contrast as his lovers. Shane Zaza's zany Mullet is a delight. As handfuls of arid sand fall on Tom Scutt's well-designed set, the grim misery of this picture of solitude — a desert of the emotions — is alleviated by Neilson's playful humour, satirical bite and moments of sheer theatrical bliss.
© Aleks Sierz