Lampedusa, Soho Theatre
Friday 10th April 2015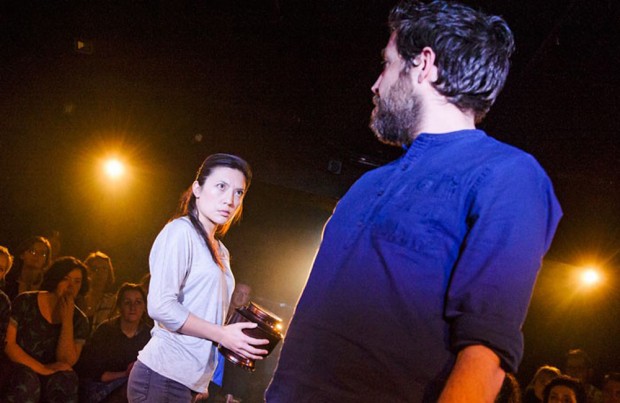 I am writing this review during a week in which each day brings yet another horrific statistic about the hundreds of migrants drowned while attempting to cross the Mediterranean sea from Libya in north Africa to the southern Italian island of Lampedusa. In this exceptionally timely new play, this situation is explored by Anders Lustgarten, who is also an activist and one of our most committed political playwrights. But how can he illuminate the situation of migrants and then do what every good piece of political theatre should always attempt, namely to find a ray of hope in an otherwise unbearable situation?
To begin with, this is not just a piece of documentary journalism. Lustgarten not only travels to southern Italy, but also to northern England in an imaginative leap that helps examine the question of migration, and clearly hopes to provoke empathy. His play is a two-hander whose tag line is that it is "About us being better than our rulers think we are". So he puts two very different people on stage: one is Stefano, an Italian fisherman whose job it is to pull drowned bodies out of the sea off the island of Lampedusa, landfall for desperate people being transported to Europe in un-seaworthy boats. The other is Denise, who walks around the poor estates of the UK, collecting pay-day loans, and witnessing the depressing effects of poverty firsthand. She is a Chinese-British student and experiences racist insults, and other hate speech about, yes, you guessed it, immigration and immigrants.
For Stefano, "The Mediterranean gave birth to the world", but it is now a graveyard, as he and his grouchy mate Salvo are tasked with pulling bodies out of the water after a particularly bad capsizing, which may — rumour has it — been deliberately contrived to dissuade other migrants from attempting the perilous crossing. Then they get a chance to rescue the survivors of a storm-wracked accident. For Denise, her job gives her the income she needs to pursue her studies, but it also brings her into contact with the sheer eccentricity of life: one of her clients says that he can't deal with her because his python has just eaten his dog: "The madder the excuses the more likely they are to be true." She also gives a sobering account of how her 58-year-old mother is subjected to a work capability assessment, despite being sick, and how anything she does to make a good impression, such as dressing well, is used to deprive her of benefits.
Lustgarten's text is brilliant: he tells the stories of both Stefano and Denise with enormous directness and power. The writing is bright in its intensity, combining both fact and humour. It is a vivid example of onstage narrative, passionate, moving and politically radical. By putting both of these workers, whose job it is to clear up the mess left by the global system, where imports of people serve to lower wages and create poverty, in the same space, Lustgarten elegantly and simply makes the point that we are all connected, and that distant parts of Europe are still part of the same capitalist system.
Director Steven Atkinson (HighTide supremo) and designer Lucy Osborne have created an empty circular space surrounded by uncomfortably hard benches, so this is a play where the acting carries the story and the emotions. Ferdy Roberts (Filter theatre's co-artistic director) and Louise Mal Newberry are both excellent, giving voice to the anger and nightmares that haunt anyone who works at the cutting edge. Like the Ancient Mariner, Roberts fixes audience members with his eye, while Newberry's poised nonchalance hides an equally troubled character. Both sit among the audience and talk directly to us. Both also balance raw feeling with a detached wryness that makes you want to hug them.
They effortlessly transport us to the hot shores of southern Italy, where Stefano has trouble getting his boat started and is surprised to get some help fixing the engine from Modibo, a migrant mechanic from Mali. Then we're back in gloomy northern England, where Denise runs into single mother Carolina, a "Portuguese lass", who unlike some of the debt-collector's other clients comes across as completely guileless. Both these stories illustrate the power of the kindness of strangers, and both Stefano and Denise gradually become slightly better human beings because of these meetings. So Lampedusa is a political play that shows how human contact and empathy can make things better, without any ideology or without relying on our rulers to do everything for us. The result is a short, but stunning piece of radical theatre.
© Aleks Sierz