Kin, Royal Court
Wednesday 24th November 2010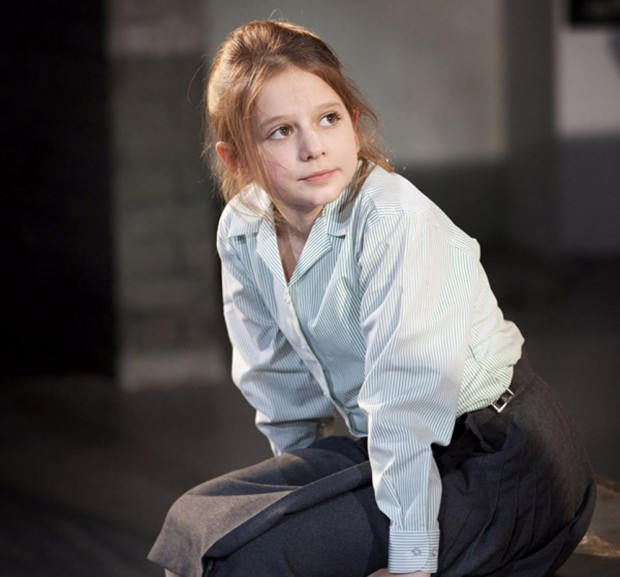 Middle-class family angst continues to be this season's theme at the Royal Court Theatre, but this time it is seen through the eyes of 10-year-old girls at a 1990s boarding school. But don't expect this to be an episode of Malory Towers or even the rather good-natured naughtiness of St Trinian's. No, this is a bleak institution where the girls are foulmouthed and vicious in their rivalry. As Mrs B, who supervises the dorms, says to the headmistress: "They are small dogs doing what small dogs do."
Certainly, EV Crowe paints a vivid and atmospheric picture of this boarding school, with its girlish emotions and childish rivalries, yet the play is thin on plot and shallow in its view of contemporary Britain. The idea of kids as canine creatures is interesting, but not enough to compensate for the brevity of this 70-minute drama. The story, such as it is, concerns Mimi and Janey, who share a dorm. Mimi gets the part of Proctor in the school play, Arthur Miller's The Crucible, which also features the girls' rival, Nina, as Proctor's wife. Although this choice of play does not reflect the relationships between the girls, it does suggest something of the hothouse atmosphere of gossip, denunciation and revenge that permeates this institution.
Although Crowe's language zips and zings with idioms — "annie" for anorexic, "whispers" for bedtime after the lights go out and "homesick" meaning sick of home — the plotting of the play, with Mimi and Janey's friendship coming under strain when Nina accuses Janey of being a bully, is a tad perfunctory. The plot also suffers from having the additional, and unnecessary, complication of a "then" and "before" format. If some features of the school's regime are convincing — especially the embarrassing phone calls home — the experience of watching the play is oddly unsatisfying.
Crowe, whose play Doris Day is currently part of Clean Break's Charged season at the Soho Theatre, makes her Royal Court debut with a piece which allows a group of very young actors to also make their professional debuts. In the process, the actors are delightful in the extreme contrast between their tiny physiques and their adult language, with its blatant swearing. Ciara Southwood as Mimi and Mimi Keene as Janey are engaging and entertaining, and Fern Deacon as Nina is equally excellent.
Annette Badland is similarly convincing as their supervising teacher, Mrs B, while Kevin McMonagle is Mr Thorne, the school governor, and Skins's Ollie Barbieri plays Mimi's brother. Jeremy Herrin's production — on Bunny Christie's bleak set — captures the hectic emotions of boarding-school life and uses a soundtrack of howling dogs and uncanny shuddering to create a feeling of menace. But Kin is much too short to have anything substantial to say about British life today, and some of it feels willfully obscure. In the end, it merely offers its audience one snappy lesson rather than a full term's worth of entertainment.
This review first appeared on The Arts Desk