The Hard Problem, National Theatre
Thursday 29th January 2015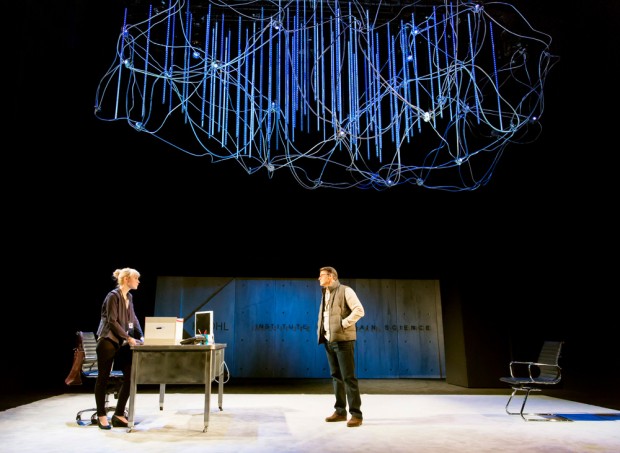 Neuroscience is a fascinating topic for theatre. At their best, plays about this subject — such as Lucy Prebble's superb drama The Effect — stimulate both the heart and the mind, creating an experience that is both cerebral and emotional. As Tom Stoppard proved with his 1993 masterpiece, Arcadia, he has the almost unique ability to pull off this delicate balancing act, stimulating both the mind and caressing your feelings.
The Hard Problem — a story about neuroscience — is Stoppard's first play for nine years, since Rock 'N' Roll in 2006, and the last play to be directed by Nicholas Hytner, the outgoing artistic director of the National Theatre, so it comes with a heavy cargo of expectations. Can the playwright create another wonderful theatrical experience? Will the director go out with a bang? What can this drama tell us about mind and body?
Stoppard tells the story of Hilary, a bright psychology student who applies for work at the Krohl Institute for Brain Science. Although she is not a great scientist — more Loughborough uni than Cambridge — her understanding of humanity gives her the edge over other job applicants, and she finds herself in a job that aims to research the hard problem: if the brain is just a collection of matter how do you explain consciousness?
This raises questions about the nature of human identity and about the causes of our actions. Early in the evening, Hilary argues in favour of the idea that there is more to altruism than it merely being a utilitarian "cost benefit thing". Likewise, she insists that most human emotions are not powered by the selfish gene, nor can they be simply explained as evolutionary adaptation. Whatever the soul is, it is not just some chemicals sloshing about in our craniums.
Acting as her interlocutors are three men: her mentor Spike, her boss Leo, and Jerry, the billionaire founder of the institute (who in an unnecessary subplot is also the head of a hedge fund that uses mathematical sciences to make huge amounts of money — until the financial crash arrives at the end of the play). Also drawn into the story are Amal, an Indian science whiz kid, and Bo, a Chinese mathematician, plus a lesbian couple.
As you'd expect, Stoppard's writing is very clever, often sparkling with popular science and glowing with humanism. At every turn of the argument, and at every plot swerve, it is anarchic factors — mainly God and sex — that make us human. It also has to be said that Hilary is a potentially interesting character. As a woman, she is the perfect foil for the egoistic and semi-autistic men that surround her. Her belief in God, and her maternal feelings, also complicate the story in a fruitful way. Her struggle to compete with the institute's boffins, to master the necessary maths to conduct a rigorous scientific experiment about behaviour patterns in children, all solicit our sympathy.
This is not, however, a satisfying play. At 100 minutes, it feels too complicated, too brief and too superficial. Despite Hytner's attractive young cast — led by Olivia Vinall as Hilary and Damien Molony as Spike — the most important issues remain poorly explored and there are too many characters that are underdeveloped. Somehow, the text concentrates on a mass of cerebral ideas without giving us the space to respond to the emotional lives of the characters. The richness of the play's ideas feels sickly at times, and pretty soon I wanted to shout: "Stop!" Please give us time to absorb what you are saying. Please.
As more and more ideas about goodness, maternity, experiment, reality begin to pile up, there is a distinct feeling that the playwright has lost control of his material. And the scandal is that no one at the National has had the guts to tell him so. Still, some aspects of Hytner's production — such as designer Bob Crowley's suspended sculpture which glows and buzzes like a mass of electronic synapses during the scene changes — are pleasurable. And I'm sure that Stoppard's name will sell out the show for the whole run.
© Aleks Sierz