Rock 'N' Roll, Royal Court
Tuesday 20th June 2006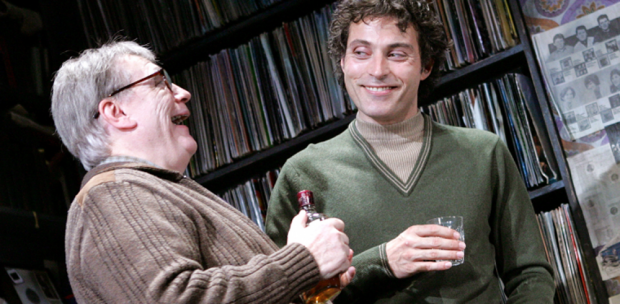 Tom Stoppard's new play really rocks, which is just as well since rock 'n' roll music is the thumping heart of this baggy beast of a drama. This time, the politically conservative Stoppard has a written a play for lefties, one which examines Cambridge Marxism, the Prague Spring, the poetry of Sappho and the power of rock music. Starting with young Syd Barrett of Pink Floyd and ending with the geriatric Rolling Stones, this is very much a modern epic.
As in Stoppard's 1993 masterpiece Arcadia, two parallel worlds unfold on stage: Jan, a young Czech student, returns during the Soviet invasion of 1968 from his studies in Cambridge, and backs the raw music of the Plastic People of the Universe against the claims of earnest dissidents, who are just no fun. Gradually, however, as the Stalinist state cracks down on long hair and rock 'n' roll, as well as on ideas about reform, he is draw into the Charter 77 movement.
Meanwhile, Max is a Cambridge philosopher who remains a Marxist despite the traumas of Hungary in 1956 and Czechoslovakia in 1968. This leftist materialist first clashes with his wife, Eleanor, who teaches Sapphic poetry, and then with his daughter, Esme, and her daughter, Alice. So three generations of British lefties fight it out. And Max remains unrepentant.
In the Prague scenes, the sympathetic Jan is at first hostile to the martyr-like dissidents, who seem determined not only to put their heads above the parapet, but also to thumb their noses at authority at the same time. He just wants to have fun, and the music of Pink Floyd, Velvet Underground and the Grateful Dead is what makes him hot. He grows his hair and supports the cultural dissidence embodied by Czech hippies. But, slowly, he realises that the state's intolerance forces him into active opposition — and, when he does, you can see why the Eastern European states crumbled from within.
At Cambridge, by contrast, Max and his family have an easy life. But the old lefty is troubled by the erosion of Communist practice, and although he defends the Soviet bloc, doubts begin to accumulate. By the second act, Britain is seen as a democracy of obedience, in which civil liberties have been allowed to drain away, and where dissidence has been replaced by a culture of celebrity gossip and rampant consumerism. At the end, as the characters dance to rock pensioners in post-Communist Prague, there's even a suggestion of a flight from politics. The story's last words are: "I don't care."
But although the play is realistically unheroic, even pessimistic, Stoppard does discover a joyous feeling of hope in the spirit of rock music. After each scene, there is a smash cut punctuated by a triumphant burst of rock 'n' roll. As the drum beats, bass licks and guitar squeals mount up, a sense of exultation grips the theatre. Not every scene is equally successful, but the music encourages nostalgia of the sweetest kind.
As you'd expect from Stoppard, Rock 'N' Roll is full of ideas, but — this time — it never feels solely cerebral. In fact, it is probably both the most personal of his plays — he was, after all, born in Czechoslovakia and he did support Charter 77 — and the most empathetic: he's always been sceptical of Marxism, but here he creates lefty characters who are both convincing and sympathetic. As directed by Trevor Nunn, with subtly evocative design by Robert Jones, this production features powerful performances from the weighty Brian Cox as Max, gentle Rufus Sewell as Jan and powerful Sinead Cusack as both Eleanor and Esme. Politics and music may now seem, to anyone who remembers the late 196os, to be increasingly bland and banal, but this play is an engrossing and exciting evening of the real thing. It may only be rock 'n' roll, but I like it.
© Aleks Sierz