Fatherland, Gate Theatre
Wednesday 16th February 2011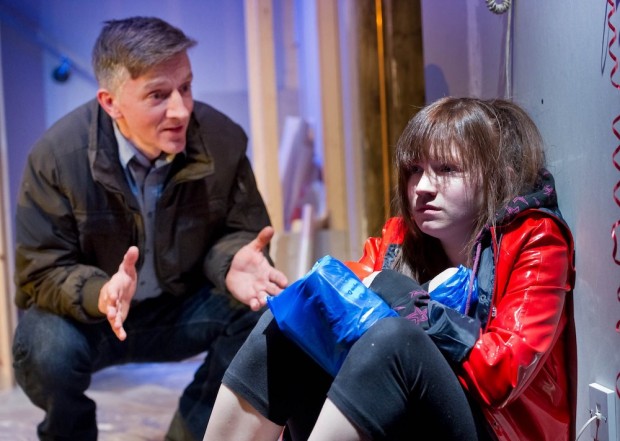 Sadly, I'm embarrassed to say, I know very little about Australian theatre. So here is my chance to open up to a new playwright. Award-winning Tasmanian playwright Tom Holloway's new play, Fatherland, is a world premiere directed by Caroline Steinbeis, who won the James Menzies-Kitchin award in 2009 for her excellent production of Caryl Churchill's Mad Forest at the BAC.
The current play is a two-hander about the incestuous love between a father and his daughter. At first, things seem quite normal. Mark is at home doing his DIY when Angela visits him. The banter is typical. She calls him a "giant loser nerd", and he suggests that they spend some quality time together, maybe ordering in a pizza, some beers, and watching a DVD. But soon the atmosphere darkens, odd things start happening and it seems as if the play itself has become as inebriated as its characters.
Although the initial dialogues are quite naturalistic, Holloway's play is more adventurous, more leftfield, than its basic premise suggests. It is not only about incestuous love, but also about the process of grieving. But while Steinbeis gets well focused performances from both her actors, the play's concept — showing the classic five stages of grief — is not immediately apparent and has to be explained in a programme note. With a 70-minute running time, the piece feels a bit constrained.
Still, Jonathan McGuinness's creepy, insincere and dominating father contrasts well with Angela Terence's girly, scared and puckish daughter, and both deliver strong, convincing performances. On a ramshackle set designed by Max Jones, plus a wintry soundscape by Simon Slater, this is a powerful piece of experiential theatre, complete with a heart-stopping climax. But the challenge facing Ramin Gray, the new artistic director of ATC, who co-produce with the Gate, is not just to find playtexts with different layers of meaning, but also to get directors to present them clearly.
© Aleks Sierz