Facts, Finborough Theatre
Thursday 28th February 2013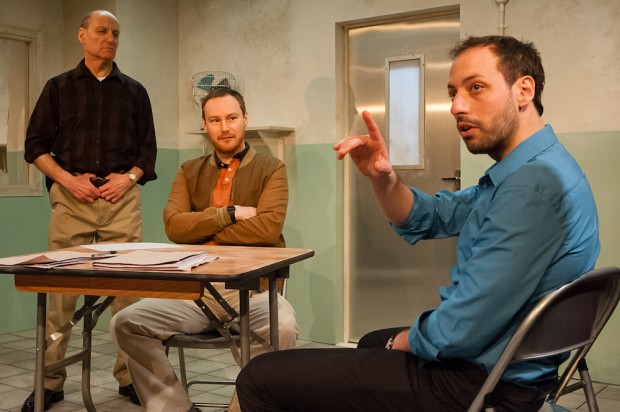 Science is an area of perennial fascination for theatre. In the past, plays as various as Tom Stoppard's Arcadia, Michael Frayn's Copenhagen and, more recently, Nick Payne's Constellations, have been both cerebral and emotional experiences. Now an adaptation of Mark Haddon's bestselling book, The Curious Incident of the Dog in the Night-Time, and a new play from Canada both look at science, and belief.
For a change, the science in Canadian playwright Arthur Milner's Facts is archaeology, and provides a background to this thriller about a killing in the West Bank. Based on a true story, this European premiere (well done artistic director Neil McPherson) is a tense 90-minute police drama set in an interrogation room run by the Israeli army in the West Bank, or Occupied Territories.
The main protagonists are Yossi, a hardened Israeli cop, and Khalid, a Palestinian cop who is markedly less cynical about his job. When an American archaeologist is murdered in Hebron, it soon emerges that in his research he was questioning the stories of the Old Testament by means of modern science, and that his conclusions suggest that there is no factual evidence for the great biblical stories of Moses and David.
Clearly, he has been killed by a Zionist fanatic. So Yossi and Khalid soon haul in Danny, a hardliner who believes that God gave all of the Palestinian lands to the Jews. Although it proves easy to place Danny in Hebron on the night of the murder, there is no conclusive proof that he actually carried out the killing. Also, he has good contacts in the Israeli army.
Milner clearly outlines the deep conflict between the secular Yossi and the religious Danny, who seem to have even less in common than Yossi and Khalid. Interwoven into the interrogation are the facts of modern science: Yossi and Khalid discuss the stories of the Bible and Koran, and question whether the religious truth is the same as secular scientific truth.
If the Biblical stories are really just the myths of believers, designed to give them a meaning and role in their struggle against other religions, the truth, or truths, of modern science are also political. All archaeological digs depend on funding bodies and on different political priorities — their results all depend on interpretation. Just as the sacred texts depend on traditions of belief and exposition.
But although Milner does not argue that modern science is quite as inaccurate as old religious myths, he does show how proving the guilt of one individual, in this case Danny, can be as frustrating as trying to find out what happened more than a millennium ago. Human beings need to create meaning, but sometimes the facts at their disposal stubbornly resist interpretation. Or spawn too many different ideas.
This is fine thriller, compellingly written and excellently performed. Caitlin McLeod's taut and clear production, designed by Georgia Lowe, features a fearsome performance by Michael Feast as Yossi and a quietly dignified Philip Arditti as Kahlid. Paul Rattray's Danny is calmly bigoted and genuinely frightening — his fanaticism has an all too human face. But then, as all of this kind of play argue, belief is just as human as science.
© Aleks Sierz