Chinglish, Park Theatre
Tuesday 28th March 2017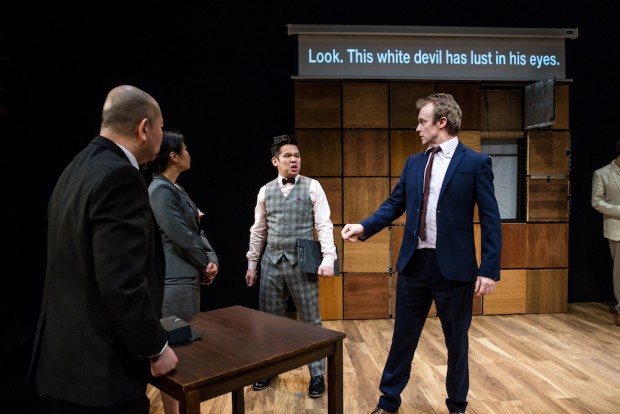 China is in the news every week, sometimes every day, but there are only a handful of plays about this massively important global player; in comparison, at least one new play about the United States opens every week in London. Apart from Lucy Kirkwood's Chimerica, and Tim Luscombe's Hungry Ghosts, there have been very few memorable plays about China. So it is good to welcome the British premiere of veteran American playwright David Henry Hwang's Chinglish, which comes from the Tony Award winner and the man behind M Butterfly, as well as being the most produced living American opera librettist.
Chinglish was first staged in on Broadway in 2011, and is set in Guiyang (pop four million). Daniel Cavanaugh, an American who heads a firm of Ohio sign-makers, wants to secure a deal with a local cultural centre, whose public signage has been rendered ridiculous by gross mistranslations into English: "Deformed Man's Restroom" instead of Disabled Toilet. Employing the services of Peter, an English consultant who is fluent in the local variety of Mandarin, Daniel makes his pitch. But Cai, the culture minister, and Xi Yan, his deputy, have other ideas, and Daniel is soon drawn into a labyrinthine situation which resembles a hall of mirrors.
Unable to speak a word of Mandarin, Daniel depends entirely on Peter, and then on Xi Yan, to whom he is sexually attracted. In a wonderfully comic early scene, which features a young Chinese translator unsure of her English as well as Peter, whose Mandarin is quite good, the joke is all about the humorous confusion that multiple translations can engender (subtitles help the audience follow the local language). As Peter says, "The first rule of doing business in China is also the last — always bring your own translator."
By the end of this comedy of international manners, Daniel has learnt something of the serpentine complexity of doing business in a culture he doesn't understand, while we find out that he is not what he seems. And that Peter is not what he seems either. And that Xi Yan is not what she seems. And nor is the local judge. A hall of mirrors indeed. Most of the laughter comes from the almost facial reversals of fortune in what is a beautifully constructed piece of drama. Hwang's plotting is impressively clever — every scene is a game of appearance and reality.
But if Chinglish avoids most of the clichés of Western views of China, the play's cultural misunderstandings are only funny because we see our worldview as the norm. Perhaps inevitably for a Broadway show, it flatters the Anglo-Saxon view that the Chinese system is riddled with corruption and favours based on personal contacts, with a big dose of nepotism thrown in for good measure. By contrast, American capitalism comes across as bumbling, inefficient and harmless, a system run by good and trustworthy people. In fairness to Hwang, it has to be said that no one comes out well from this. And at least the Chinese characters get the last laugh.
Andrew Keates's production is intelligent and high-spirited in a marvelously controlled way. Designer Tim McQuillen-Wright's versatile set uses a bank of wooden lockers that open and close to reveal or conceal each new setting — office, restaurant, office, hotel room, office, bar, office, court — as if they were a physical symbol of Chinese life. With its fast pace, and high entertainment value, this is quite a joyful evening carried by its ace cast. Gyuri Sarossy's naive and gauche Daniel contrasts with Duncan Harte's wily and experienced Peter, while Candy Ma (Xi Yan) and Lobo Chan (Cai) are also both excellent. Amid a whelter of wisecracks about everything from Beijing Opera to the Enron scandal, the cultural misunderstandings — especially about love and adultery — are sharply portrayed, and provide laugh after laugh. If this play makes you aware of your ignorance about China, that's surely good.
© Aleks Sierz