Chalet Lines, Bush Theatre
Thursday 12th April 2012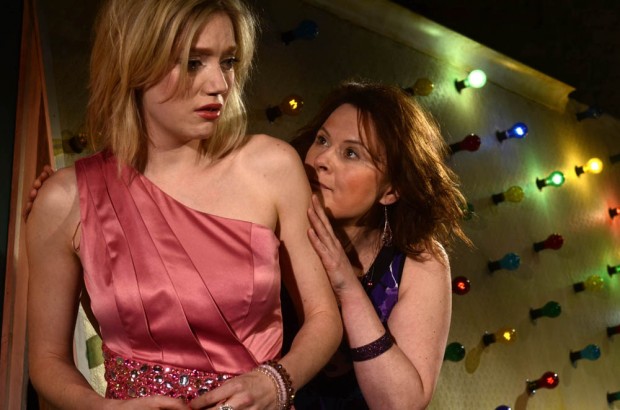 When Madani Younis became the new artistic director of the Bush, some questioned his commitment to new writing, while others asked what he would bring to this small, but high-profile venue. With this, his inaugural production, which opened tonight, some answers suggest themselves: he's chosen a solid new play, he's cast it well, and he has introduced London audiences to a Lee Mattinson, a northern voice.
Chalet Lines is set in Butlins holiday camp in Skegness. It's 2010 and, every year for the past half century, the women of the Walker family have come down from Newcastle to stay in chalet number 12. This year it's Barbara's 70th birthday. Helping her celebrate is her mouthy 48-year-old daughter Loretta, and her grandchildren, 30-year-old Abigail and 28-year-old Jolene. Soon, the drink begins to flow and the brassy one-liners are pinging off the formica and lino: Jolene's opening line, about texting, goes, "Is 'bell end' hyphenated?" But there's a cloud hovering over this July evening. The restaurant has messed up the celebration arrangements, forcing the women to stay in their chalet, and, more importantly, Paula, Loretta's younger sister, is late. And it's very doubtful that she will arrive at all.
In scene two, which flashes back to 1996, we see why Paula has become totally estranged from the family. Then 29 years old, it's her hen night and her plan has been to have a reasonably quiet do with some of her girlfriends from work. But her mum Barbara and sister Loretta have other ideas — they gatecrash the event, trying to turn it into a binge-drinking sexual extravaganza: stocked up on booze, condoms and misspelt hen-night T-shirts, they roar into action. Paula is appalled but easygoing, until the noisy Loretta tries to bully her then 16-year-old daughter Abigail into wearing make-up, a figure-hugging dress and joining the party. But although the younger Jolene is interesting in girly clothes, Abigail really isn't, which just provokes her mum even more. When Auntie Paula intervenes on Abigail's behalf, a family feud is born.
Mattinson writes with a confident grasp of the need to mix laughter with a few tears, and his comic shafts are balanced by an understanding of the emotional battleground that is family life. But for all his empathy with women, his characters often feel like sketches rather than fully fleshed human beings. Worse, his decision to set every scene in the same chalet results in some awkward plotting, and his unsatisfying ending suggests that we can never leave the family — surely a depressing and reactionary conclusion.
That said, the issues that Mattinson raises in the first part are important ones. He shows how mothers, and especially the bullying Loretta, force their daughters into being sexy young adults, whether they want to or not. There's a lot of good material about dressing and making up, body image and low self-esteem. The sheer cruelty of mothers is contrasted with the liberating joys of disco music. The flashback scenes, which include a dreamy 1961 memory trip, help to show how woman hands down misery to woman. Men are notably absent, and, anyway, they are "all the same".
Younis's generously empathetic production, in association with Newcastle's Live Theatre, has some hilarious moments, and a couple of magical ones too, and his lovely cast serve him very well. Monica Dolan brilliantly plays both the rather overwritten grotesque Loretta and her character's contrasting, restrained grandmother, while Gillian Hanna is a really fine Barbara. Laura Elphinstone and Robyn Addison play Abigail and Jolene as both young adults and gawky teens. Sian Breckin's Paula is similarly excellent, as is Leslie Travers's brightly expressionistic set. But although Chalet Lines is a solid tribute to strong northern womanhood, and has some hilarious passages, it does lose its way in the second half.
This review first appeared on The Arts Desk