Breeders, St James Theatre
Wednesday 10th September 2014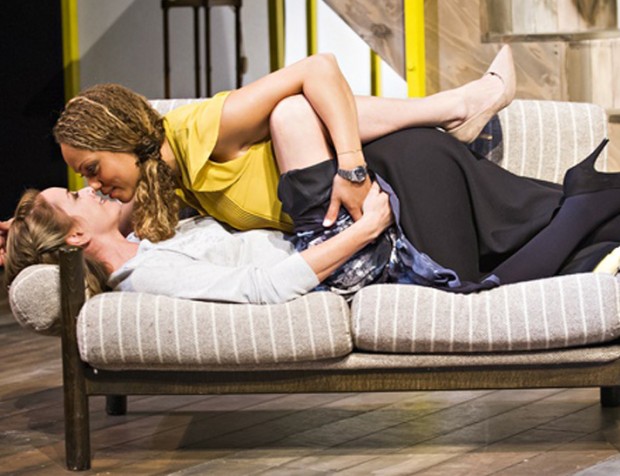 Can comedy be politically provocative as well as funny? All too often, the fun comes at the expense of radical ideas; or, contrariwise, perfectly correct social criticism somehow lacks humour. So how does young playwright Ben Ockrent's Breeders, an issue play about a married lesbian couple who want to have a baby, face up to this problem?
The set up is promising: Andrea and Caroline — the so-called "breeders" — are the broody lesbian couple. Put off by the idea of an anonymous father, they ask Jimmy, Andrea's brother, if he will be the sperm donor. This keeps the genes in the family, and means that the child will be a mixture of the diverse heritages of its parents. In fact, family is key to the story, as Andrea argues that Jimmy and his girlfriend Sharon should move in with them and, in a swap for free accommodation, help with baby-caring.
So pretty soon Jimmy and Sharon arrive. The foursome decide, with an idealistic spirit that is neatly balanced with a more cynical attitude, to raise the baby collectively. The prime mover is Andrea, who has most of the ideas, and the others are swept up, with various degrees of enthusiasm, in her wake. The inevitable problems of fertility, parenthood and communal living are discussed in the ensuing light-hearted comedy which features some great jokes, while remaining happy and sunny for most of the time.
Ockrent has created a roomful of appealing characters and touches very tenderly on their ugly sides. Whenever things get too edgy, he defuses the angst with a good one-liner. There are also some visual running jokes, such as the use of a bag of flour (a stand-in for baby) for some parental practice. Swedish pop songs form the soundtrack — and help create an eccentric ambiance. In my mind, this will always be "that comedy with the Swedish pop tunes".
Although Ockrent has a real talent for comic writing, there is a very old-fashioned feel to this play. There are several speeches that sound more like ideological declarations than anything a human being is likely to say. In one example, Andrea has a speech about how prejudiced people still are against lesbians. While it is true that a same-sex couple is often seen as somehow not a "normal family", this kind of explicit, almost naive, speech strikes me as rather unsubtle. Really, it's so 1980s.
But the cast, led by Tamzin Outhwaite and Angela Griffin as Andrea and Caroline, with Nicholas Burns and Jemima Rooper as Jimmy and Sharon, give attractive performances in Tamara Harvey's bouncy, feelgood comedy, which has a versatile set by James Perkins and just enough provocative lines to make any audience gasp. But, overall, it's not as keenly honed as, say, Liz Lochhead's Perfect Days (1998). So although Ockrent's nods to Alan Ayckbourn, and the seasonal flavour of a play set around Christmas, contribute to an evening which is pleasant, it's a bit too long for its own good. It's light fun, but it's all too nice and not as sharp as it could be. Fewer ideas and more comedy would have made a better mix.
© Aleks Sierz