Beautiful Burnout, York Hall
Thursday 16th September 2010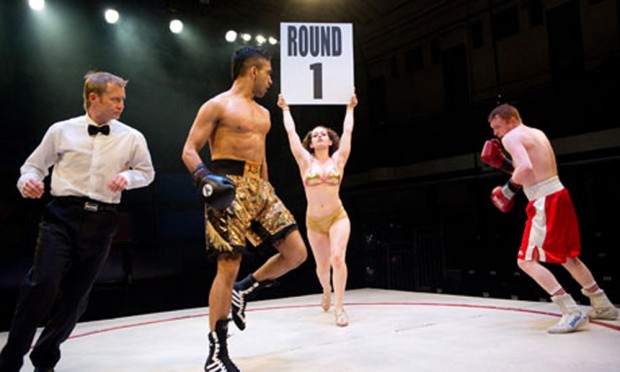 One of the most exciting ways of making an audience sweat is to combine a great story with music and dance. Since the early 1990s, Frantic Assembly have been doing just that, and their latest collaboration with playwright Bryony Lavery and the National Theatre of Scotland is an excellent example of this kind of fusion theatre. And sweating is an apt response — this is a show about boxing.
Bryony Lavery's slim, but beautifully written story focuses on Bobby Burgess's Boxing Gym, a place where the harsh-mouthed Bobby collects talented youngsters, trains them for professional boxing and then organises fights. His hopefuls are Ajay, an Asian boy with attitude, the smart but arrogant Ainslie, and the laugh-a-minute Neil Neill. Also training with him is Dina, a young woman. Into this world comes Cameron, a boy whose potential Bobby instantly recognises.
Beautiful Burnout — a title which draws attention to both the glory and the cruelty of the sport — looks at Bobby's sometimes fraught relationships with the talent he trains and then stages a showdown between two of the lads in the ring. We also see how Cameron's career affects his mother, Carlotta, and how Dina reconciles herself to the reasons why she took an interest in boxing.
These female voices go some way to humanising what could be an exclusively male sporting story. They broaden out the fanatical concerns of the youngsters who do little but train into a wider look at everyday life. Typically, Lavery is gently satirical about the dependence of men on their womenfolk: Carlotta introduces herself as "that mysterious figure loading the Zanussi" and is forever seeking the right washing machine setting for "heavy nosebleeds".
The competition between the boys takes the form of easy banter, but their frustrations and hard work are equal to their boastful chat. Needless to say, their desire for fame and money are sharply contrasted with the realities of working-class life. Not everyone will succeed; not everyone can be a winner. Bobby, as so often in plays about sport, is a maverick. He is capable of great insight, but also of making catastrophic decisions.
Presented in East London by the Barbican in York Hall, a venue which is familiar enough with the sounds of punching, grunting and applause, this production, designed by Laura Hopkins, at first feels like a good fit in this location. The stage is a simple square that looks like a boxing ring, while spectators are ranged on three sides. However, the acoustics of this found space are not good and I estimate that about a third of the audience won't be able to hear what the actors say.
Still, the really good thing about the show is the music and movement. It features the sounds of Underworld, a favourite of directors Scott Graham and Steven Hoggett, who expertly choreograph the actors into a handful of exciting dance sequences when the moves of training boxers — the punches, weaves and gymnastic exercises — are reflected in a highly stylised way. At each moment, the movement reflects the emotional arc of the story, so the sad moments are as memorable as the highs.
In this frank celebration of the sweat-and-sawdust thrills of boxing, the sheer physical fitness of the young cast is immediately apparent. Hopping, jumping, punching and dancing around the playing space, these athletic actors — newcomer Taqi Nazeer as Ajay, Ryan Fletcher as Cameron, Henry Pettigrew as Ainlie and Eddie Kay as Neil Neill — move beautifully from frantic training to slow motion and freeze-frame balletic moves. The final showdown avoids cliché. As Bobby, Ewan Stewart carries much of the storytelling, which is delivered in the great tradition of Scottish vaudeville, all big gesture and direct address to the audience. As the women, Vicki Manderson (Dina) and Lorriane McIntosh (Carlotta) provide a good mix of feistiness and down-to-earth reality. Yes, this is theatre as spectacle and spectator sport.
© Aleks Sierz