Welcome to Thebes, National Theatre
Tuesday 22nd June 2010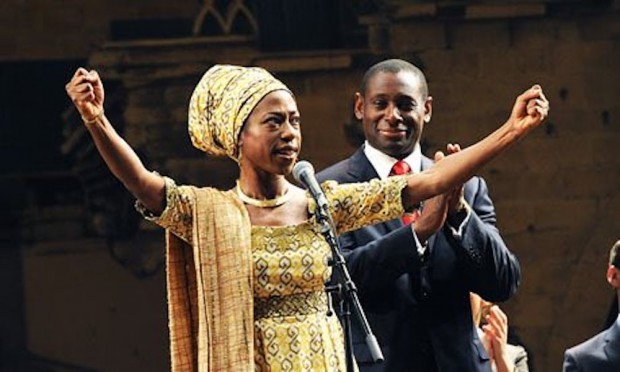 Ancient Greek Tragedy is constantly revived, especially in times of war and of national emergency. It retains its power because it explores the extremes of human psychology — and tells some cracking good stories. And the main thing about good stories is that they can be retold in different ways. Moira Buffini's radical recasting of the tale of Antigone offers both a feminist perspective and an acutely contemporary resonance.
Traditionally, the story of Antigone's insistence on burying the corpse of her rebellious dead brother Polynices is a struggle between the individual and the state, in the shape of the ruler Creon. In this version, Creon is dead and the leader of Thebes is Eurydice, his wife. At the same time, Buffini adds a visit by the Athenian hero Theseus, thus creating a contrast between an African Theban society and an intruding Western power. The one is emerging from genocidal civil war; the other offers the compensations of aid and advice.
Written with wit and compassion, this highly charged adaptation is both a powerful vision of war-torn Africa and a sharp criticism of Western posturing. And by making the leadership of Thebes mainly female, Buffini also challenges the assumptions of masculine power. Not all rulers have to be men.
At its best, former National Theatre supremo Richard Eyre's punchy production suggests the terror of irrational violence, meaningless slaughter and sexual predation. Often it feels dark and more than a touch perilous. The jokes about Greek tragedy — Antigone is, after all, Oedipus's daughter — offer a welcome relief from the omnipresent suffering.
On Tim Hatley's rubble-strewn set, with its massive royal palace ruins, the acting by a large cast is uniformly good. Nikki Amuka-Bird's noble and open Eurydice contrasts well with David Harewood's imposing and manipulative Theseus, while Vinette Robinson's passionate Antigone is pitted against Tracy Ifeachor's Ismene. Bruce Myers is a memorable Tiresias and Chuk Iwuji a vicious plotter. All in all, this rewriting of an ancient myth is a satisfying account which, and this is a modern addition, holds out the possibility of political change.
© Aleks Sierz