To Have and To Hold, Hampstead Theatre
Monday 6th November 2023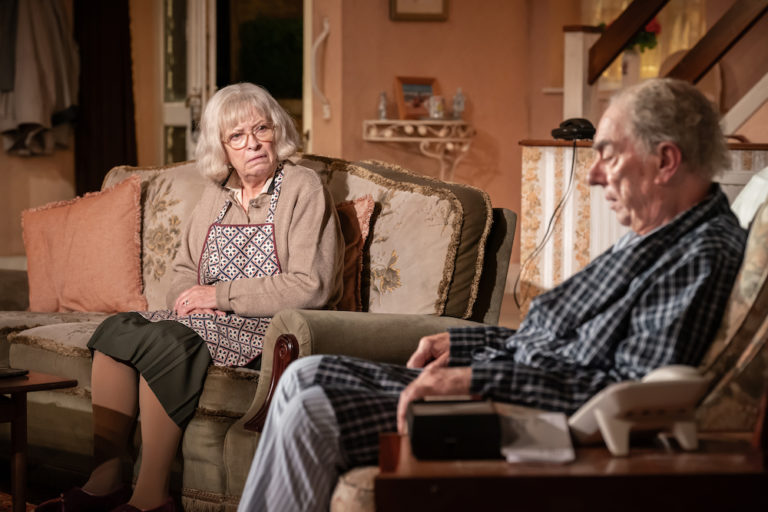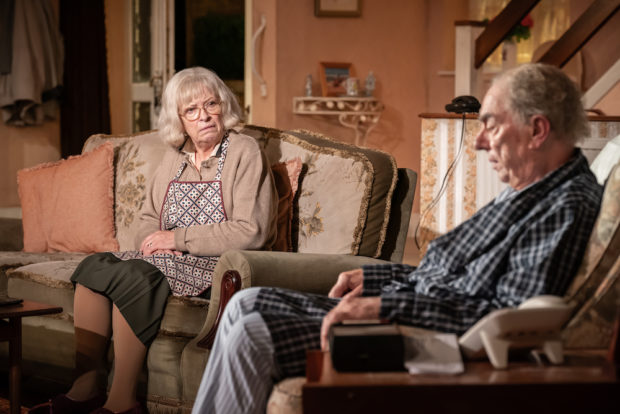 There's only a couple of things you need to know about playwright Richard Bean: he started out as a stand-up comic, and he comes from Hull. Oh, and he wears Hawaiian shirts to press nights. So that's three things. Oh, and that his masterpiece One Man, Two Guvnors (a populist farce version of Carlo Goldoni's Servant of Two Masters) was a global megahit. Well, that's four things — now you're in the zone. Here's some more: his latest, To Have and To Hold, is an acerbic take on marriage and aging, which premieres at the Hampstead Theatre, starring Alun Armstrong and Marion Bailey, and it's co-directed by those other comedy stalwarts Richard Wilson and Terry Johnson.
Set in the home of 90-somethings Jack (Armstrong) and Flo Kirk (Bailey) in the village of Wetwang, East Yorkshire, this is a comedy of family reunion: their children, 60-year-old Rob (a writer) and his younger sister Tina (a health business manager) have arrived up north from London and the South on a rare visit. Jack, a retired policeman, is sick with lung and bladder disease, and Flo is finding it difficult to cope. Although they are supported by two locals, Rhubarb Eddie, an odd-job guy who owns three allotments, and Pamela, who works for a vet, what they really want is some help from their nearest and dearest — who are also geographically furthest.
Although it's influenced both by the 1960s family reunion plays of playwrights such as David Storey, who charted the effect of university education on the sons of miners, and by David Goodhart's 2017 book The Road to Somewhere, which looks at social mobility and its effect on class and children caring for aged parents, To Have and To Hold is primarily a well-observed comic sitcom. The bickering of Jack and Flo — perceptively observed and occasionally written in a kind of Northern Pinter rhythm — has an instant familiarity, and there are running jokes about a locked front door as well as verbal arias about words like "mumps" and "prostrate" ("prostate"). Bit clichéd, eh?
But there are a lot of laughs to be had from everyday situations, anything from the offer of a cup of tea to selling off the family car or making a doctor's appointment. Bean's trademark eccentric character is Rhubarb Eddie, a huge Motorhead-T-shirted fellow who spends his time inventing solutions such as a fly-killing air gun, and the play manages to make its social points with brevity and clarity. Rob and Tina's university education has allowed them to move away from their East Yorkshire roots, and given them opportunities that their parents could barely have dreamt of. The cost, of course, is the decay of family life.
Bean treats them all with a kind of sentimental compassion in a plot where there is very little at stake and sparse evidence of real emotional conflict: jokes diffuse all of the dangerously taboo moments about death and terminal illness. Likewise, the narrative revolves around a criminal act, a betrayal which here is underdeveloped in its psychological impact. The material about the digital exclusion of senior citizens is all very true, but (again) rather clichéd and unexciting. Much better are the long passages, which make a welcome contrast to the crack-fire of the gags, where Jack records his stories of life as a policeman. A tribute to Bean's own father, these add depth to a play which often feels unengaging and limp.
The most daring scene is the epilogue, set in recent pandemic times, where the tone becomes suddenly more sombre, and we might belatedly begin to care about the characters. So while there is much to enjoy in the comedy of this rather traditional play, what's missing is a sharpness of the satire which Bean has occasionally used to good effect in the past. Probably his affection for his own parents, to whom this is a belated tribute, has rose-tinted his vision, although there is still something a bit uncomfortable about London audiences laughing raucously at, rather than with, these Northerners. Likewise, are stairlifts really so inherently humorous? I don't think so.
As co-directed by Wilson and Johnson, To Have and To Hold boasts a wide-angle, deliciously detailed chintzy set by designer James Cotterill and solid performances from a good cast. Armstrong is perfectly attuned to Jack's reminiscent moods as well as his beetle-browed exasperation with his wife of over 60 years, and he is well paired with Bailey as Flo. She brings out the scatty forgetfulness of old age — and some of its confusion. They are supported by Christopher Fulford's relaxed Rob and Hermione Gulliford's friendly Tina. As Eddie, Adrian Hood is a joy to watch. But even the smooth pleasures of the Jim Reeves soundtrack can't compensate for the piece's lack of genuine spark.
This review first appeared on The Arts Desk