The Veil, National Theatre
Tuesday 4th October 2011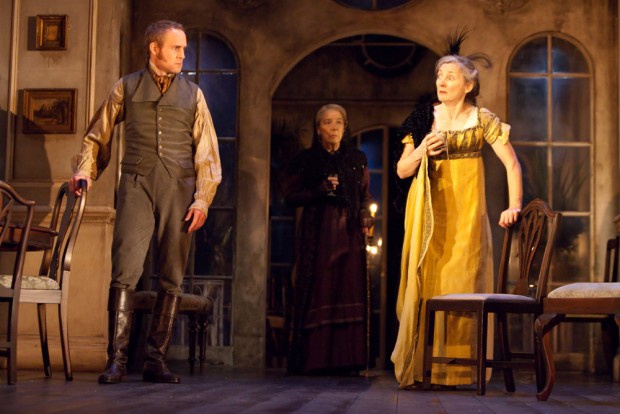 The season for ghost stories is looming on the horizon, and the first apparition to make its presence felt is Irish playwright Conor McPherson's The Veil, his first new play for five years. Have we lost another playwright to film world? Set in rural Ireland in 1822, at a time when English colonialists were living off an impoverished population, the play explores both the psychology of spiritualism and the politics of exploitation.
The play takes place in the large drawing room of Mount Prospect House, a household headed by the widowed Lady Madeleine Lambroke. To cure her financial problems, she has arranged for her daughter Hannah to marry a rich English marquis. As escorts for her journey to England, the Rev Berkeley, a defrocked Anglican, and Audelle, a philosopher, have arrived. The rest of the household includes grandmother Grandie, Fingal the estate manager, Mrs Goulding the housekeeper, and a maid.
Both Berkeley and Audelle are obsessed with the spirit world. They sense that the house is haunted, and when they realise that Hannah hears voices, they decide to hold a seance. But is Hannah really psychic, or are her fears based on more earthly problems? McPherson skilfully suggests that the relationship between psychological anxiety, transcendentalist fantasy and religious feeling is a complex one, while Audelle's use of laudanum throws drug-induced hallucinations into the mix.
The play's political and social background is vividly evoked: crop failure, mass starvation, popular rebellion and the sharp divisions between English masters and Irish servants comes across clearly. The servants are invited to drink with the family, but more intimate relationships are taboo. Class and nationality also inflect religious belief. So far, so good.
One of the best writers of the 1990s, McPherson has always been interested in ghosts, and in drink. Both featured in his 1999 West End hit, The Weir, and in his Shining City. In The Seafarer, Lucifer himself appears. The playwright, although born in Dublin, made his theatre career in London, at first with a series of monologue plays — such as This Lime Tree Bower — that got a sniffy response from critics, as if these gripping stories were somehow not real theatre.
In The Veil, his writing has a robust and vigorous quality which suggests the early nineteenth century without slipping into pastiche. The stories told by each of the characters — which vary from a tale of how too much sausage causes nightmares to a dreadful account of a beating, and from fairies to dead babies — are echoes of his early monologues, as are the metaphors for drink: whiskey is the "the lord's tears".
Although McPherson once wrote exclusively about men, this time the women come convincingly to the fore. Fenella Woolgar is a commanding Madeleine, Emily Taaffe a tormented Hannah and Brid Brennan an acerbic Goulding; Jim Norton gives all of his charm to Berkeley and Adrian Schiller is a compelling Audelle. McPherson directs this atmospheric play, with spooky design by Rae Smith, adding a few light touches: Grandie clutches a stuffed toy, which shows her second childhood. There's a lovely comic moment when masters and servants compulsively exchange "thank you"s.
But the small touches cloud the big picture. McPherson has chosen a traditional form — that of the well-made play — to tell his tale, but is unable to make it well enough. His story has a strong scent of melodrama, the exposition is not clear enough and it's never certain whose story is being told. There are too many subplots, the stage illusion is ineffective and the ending is too slack. So although the play paints a sharp picture of an English family alienated in a despoiled land, the complexity of McPherson's idea of a haunting detracts from the work's effectiveness as a ghost story. There's nothing wrong with using a traditional form for a play with contemporary resonance, but it's got to work. With McPherson directing as well as writing, it simply doesn't.
© Aleks Sierz