The Knot of the Heart, Almeida Theatre
Monday 21st March 2011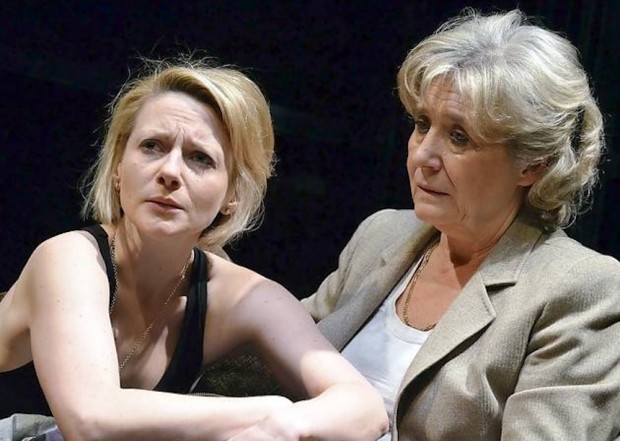 British theatre is no stranger to images of addiction. The drug addict, the drunk, the sex pest are regular inhabitants of the world of new writing. It's a world they often dominate. In fact, you are more likely to meet them on our stages than the jobsworth, the office employee or the nice middle-class couple. But although they sometimes function as metaphors for bigger themes, few plays really get to grips with the realities of addiction — few show its subjective side. Few show how it feels.
David Eldridge's The Knot of the Heart is a new play that does exactly that, and more so. Unusually, the main protagonist is female. She is Lucy, a nice middle-class twentysomething who wants to be a celebrity. Then, very soon after she succeeds in landing a job as a presenter on a TV children's show, she is caught smoking heroin in her dressing room. She's promptly sacked.
What starts as Lucy's social drug habit, a little help with her nerves in front of the camera, quickly escalates into full-blown addiction. In this, she is greatly helped by her guilt-ridden mother, Barbara, a widow in whose comfy Islington home Lucy takes refuge. Barbara loves her daughter, but she also supports her habit by giving her money, scoring for her and turning a blind eye to the reasons for her addiction.
As so often happens, mother has problems of her own. Her habit is alcohol, and both Barbara and Lucy become co-dependents who support each other's addiction in a long spiral into oblivion. But while alcoholism is more socially tolerated, heroin addiction is not. Eldridge graphically illustrates Lucy's slide into danger: a friend dies from an overdose, she starts injecting, she swaps sex for drugs, she steals, she gets attacked by a dealer, she's raped, and her hygiene gets grotty.
Soon Lucy ends up in casualty. Pulls herself together, then ends up in casualty yet again. The only answer is rehab. Gradually, through therapy she begins to get better, and slowly she understands what lies at the root of her addiction. What began as a fun high grows into a life-shattering addiction because it helps Lucy avoid emotional pain and shirk responsibility. In the stupefaction of heroin she finds safety.
Being a fiction, The Knot of the Heart also mixes some dramatic plot revelations into what would otherwise be a rather everyday, although excruciatingly painful, story about a young woman who needs to be loved. The family scene that gradually unfolds involves the reason for the death of Lucy's father, and the role played by her older sister, Angela, who has a full load of her own problems.
The story is enthraling, despite the grossness of Lucy's addiction. For although Eldridge provides some good reasons for Lucy's distress in this dysfunctional middle-class family, he also shows that, in some respects, it is very difficult to truly comprehend the world of the addict. He also allows us to empathize with Lucy's emotional turmoil, at times from the inside, and her slow path to some kind of recovery.
If the politics of the play are humane, with nurses and therapists coming across as sympathetic and caring, its message is equally welcome. Eldridge is saying that any family, no matter how privileged, might have to suffer the breaking of the knot of the heart (a Sanskrit idea) before attaining any kind of self-knowledge. There are no easy answers, and enlightenment is only achieved after conflict, pain and despair.
Written especially for Lisa Dillon, this is a play whose politics are supported by its excellent production values. Michael Attenborough's excellent direction, on Peter McKintosh's design, results in a superbly nuanced and raw performance by Dillon, who journeys from anxiety to stupor, and from desperation to anger, in an outstanding piece of acting. She is brilliantly supported by the magnificent Margot Leicester as Barbara and Abigail Cruttenden as the coolly repressed Angela. Kieran Bew plays all the men. All in all, a terrific piece of new writing.
© Aleks Sierz