The Homecoming, Trafalgar Studios
Saturday 21st November 2015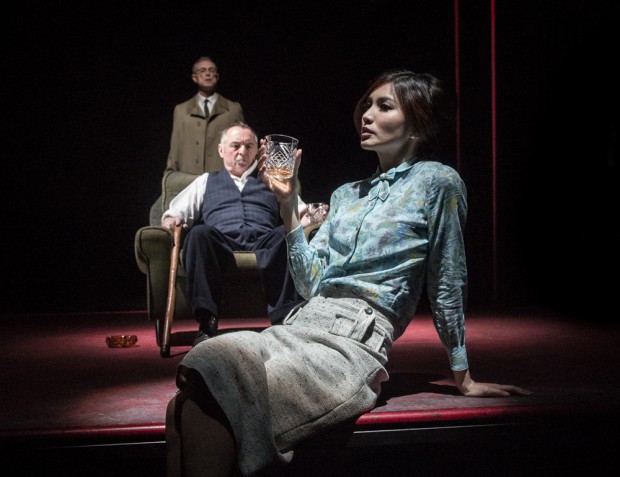 A true theatre masterpiece can survive any directorial mugging. By this definition, Harold Pinter's 1965 play, The Homecoming, is a robust work of genius. It has to be because, from the very start of this starry 50th anniversary revival, director Jamie Lloyd seems determined to turn it into a lurid mix of cartoon and nostalgia-fest. As the evening begins, the drama's grubby setting, given a retro look by designer Soutra Gilmour with the addition of a couple of sticks of period furniture, is bathed in bright red light while pounding drums and throbbing bass evoke something like the Swinging Sixties.
It feels more like a nightclub than the old house in North London specified by Pinter's text. Once the fury of this opening wake up call fades, the story continues at a more normal pace. We find ourselves in an all-male household where Max, an old widower, rules over his two sons, Lenny, a petty criminal, and Joey, an aspiring boxer. The other member of this testosterone-heavy ménage is Sam, Max's younger brother, who works as a cab driver. The homecoming of the title refers to the unexpected and unannounced arrival of Max's third son, Teddy, the oldest of the boys. He has emigrated to America a few years previously, and now he is accompanied by his wife, Ruth.
Teddy and Ruth were married just before they travelled to the States, and he has a job as a philosopher at an American university. The couple have had three children, which they have left behind to concentrate on their country-hopping trip across Europe, and this visit to his family is the last stop on the tour. In a shortish two-hour drama Pinter explores the ambiguous psychological effects of this homecoming, and especially the arrival of a woman into this all-male household. At first, Gemma Chan's doll-like Ruth is a bit uncertain, her coolly sophisticated poise insecure among these Cockney men. Although she looks too young to be a mother of three, she very quickly manages to tame the men, confidently crossing and uncrossing her legs, patting her lap in invitation and finally occupying Max's armchair in an almost regal manner.
Perhaps Chan is the best feature of Lloyd's rather OTT production, which even has dry ice rolling down the stairs of this working-class house, and her triumph over the males is strongly emphasised. I wasn't very impressed with the rest of the casting: of course, as you'd expect, Ron Cook is good enough as a snarling, surprisingly nimble seventysomething Max, but he doesn't look much older than Keith Allen's Sam, nor — worse — Gary Kemp's Teddy. By contrast, John Macmillan's mixed race Joey looks a bit too young, and his racial heritage suggests that Max's wife strayed rather too obviously from the marital bed. I suppose this prepares new audiences for Sam's climactic revelation about her infidelity, and it is also a nod towards the more complex ethnic mix of London today. While Allen and Kemp can be a bit cartoonish, John Simm's Lenny is satisfying detailed.
But there is something wrong with a show whose most memorable moments are the bright lights and deafening music of the scene changes, the crackling of the set's lighting, and the occasional exaggerated poses of the cast: at one point, the five men line up like something out of Guy Ritchie's Lock, Stock and Two Smoking Barrels, and this revival's aesthetic is nearer to that gangster sensibility than any other versions I have seen. But while this brings out the nefarious qualities of the family's activities, and vividly underlines Lenny's role as a pimp and sexual exploiter, I think it narrows down the meaning of the play and lessens its resonance.
Lloyd can certainly not be accused of being too subtle, or too ambiguous, or too ambivalent. Everything is spelt out in capital letters: when Ruth pops out for a breath of air, Chan is shown gulping in the street outside. When Teddy is frustrated, he bites his own hand in a caricature of anguish. On the other hand, some audiences might find this version of the play much more entertaining than a more serious and staid reading. For me, the star casting fails to gel into a coherent picture of family life, of marriage and its discontents, and I'm not convinced by most of the dialogues — in many of the scenes, I just didn't believe a word. There is no dynamic energy between the characters and, despite the production's rampant desire for clarity, the results may look exciting, but their meaning is hardly illuminated. This is a very bold, but very vulgar version of a great play.
© Aleks Sierz