The Gods Weep, Hampstead Theatre
Wednesday 17th March 2010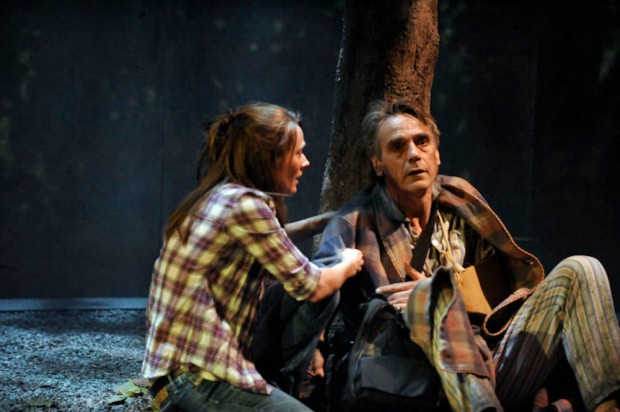 Oddly enough, British theatre has recently been rather reticent about showing the rich and powerful on stage. You can see plenty of the victims of global turbo-charged capitalism, but very few of the protagonists. Last year, Lucy Prebble's portrait of Jeffrey Skilling in Enron and David Hare's verbatim account of the recent banking meltdown in The Power of Yes were the exceptions that prove the rule.
Now, Dennis Kelly in his new play, The Gods Weep, which could be described as King Lear meets Enron, gives us a vision of Colm, an entrepreneur on the skids. And the good news is that he is played with great emotional intelligence by Jeremy Irons. Beginning with a board meeting during which he carves up his business empire and divides it between his two subordinates, Catherine and Richard, but cuts out his son Jimmy, the play soon expands over a global canvas.
Belize — an ironic choice given Tory peer and party-funder Lord Ashcroft's connections to the tax haven — becomes the focus of the conflict between father and son. Falling into an emotional tangle with a married woman, Beth, Jimmy attempts to insure a project that will lease out the country's farmland to Western companies. But while Colm struggles to keep control of his pet humanitarian interventions, the logic of corporate greed wins out.
Colm's plans soon founder as competition between Catherine and Richard rapidly escalates into open conflict, and the violence inherent in capitalism arrives with a shocking ferocity. Civil war breaks out, and security forces roam over Belize and beyond as the entire global economy pitches head first into chaos. Mobs rampage, and betrayal is signaled by random executions. Death is meaningless.
It's a grimly surreal vision of war and terror. Kelly clearly isn't interested in a realistic account of modern business practices; his mission is to convey a sense of the dystopic possibilities inherent in the unregulated free market. As gun-totting soldiers cross and re-cross the stage in Maria Aberg's epic production for the Royal Shakespeare Company, the horrors of violence are powerfully conjured up.
Kelly's writing is not only Shakespearean in inspiration, but flinty and poetic in its resonance. Influenced no doubt by Edward Bond, Howard Barker and Caryl Churchill, as well as by Akira Kurosawa's film Ran, he mixes imaginative leaps with gritty bad language and vivid word pictures that seem to wink at you before they disappear, and the struggle moves on.
By the end of this three-hour-long show, Colm finds himself living in a rural backwater with Barbara, the daughter of former rival who he once relished destroying. But instead of religious redemption, Kelly offers us a picture of how two antagonistic individuals can learn to live together in an everyday situation. As an image of truth and reconciliation, it's both impressive and haunting. These scenes are the best in the play.
As Colm, Jeremy Irons makes the journey from twisted dissatisfaction with absolute power through mental breakdown — which involves an episode of infantile dependency — to not one, but two, rebirths. Since the whole story is seen largely through his eyes, the sincerity of his performance dominates the evening. But there is also good work from Helen Schlesinger's aggressive Catherine, Jonathan Slinger's antagonistic Richard, Luke Norris's scheming Jimmy and Joanna Horton's compassionate Barbara.
This play is a welcome example of ambitious new writing, and, however imperfect — there are moments when the story lacks focus — also offers a powerful metaphor for rampant capitalism. Sure, it won't please those who demand that their plays are snapshots of real life, but sometimes the truth is more complex and, yes, more strange than what you read in the newspapers.
© Aleks Sierz