The Dark Earth and the Light Sky, Almeida Theatre
Friday 16th November 2012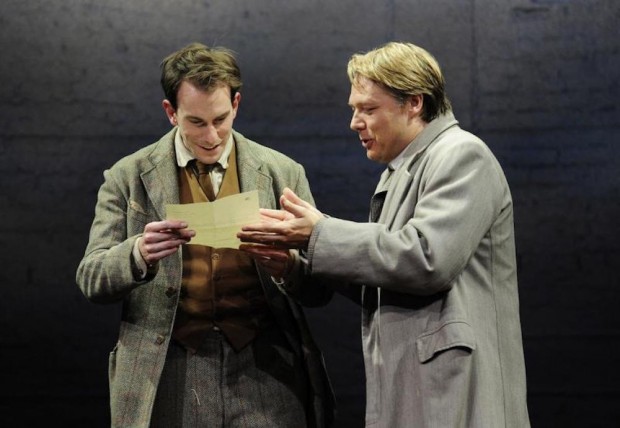 How do you express Englishness on stage? One way is to use the genre of the history play to revisit episodes that evoke the past and resonate in the present. Nick Dear's new biographical drama, The Dark Earth and the Light Sky, looks at what the playtext cover blurb calls "the enigma of Edward Thomas", the Anglo-Welsh poet, "through the eyes of those who loved him best". Starting with short scenes that provide some background to his life, the central part of the play is set in August 1914.
At the time of the outbreak of the first world war, Thomas, his wife Helen and the American poet Robert Frost (along with his offstage family) were staying in close proximity near the village of Dymock in Gloucestershire. The two men became friends and, inspired by Frost's praise, Thomas began to write the poetry that minutely observes the pastoral nature of Deep England, while also being plain-speaking and literally down to earth. Life is complicated by his prickly manner, not least to Helen, and the family is soon joined by his admirer, the writer Eleanor Farjeon.
Dear's play has a narrow focus, which makes the story manageable, and he effectively uses the Thomas—Frost relationship to tell the story of the men's contrasting characters and careers, and to illuminate an aspect of this country's culture: its love of words and of plain-speaking. Mercifully he avoids clichés about Adlestrop, and his structure, which goes back and forth in time, taking in Thomas's death in 1917 and Frost's subsequent visits to Britain, as well as Helen's fate, is efficient. Despite some clunky passages of exposition, with plenty of direct address to the audience, this is a labour of love, and Dear is clearly sympathetic to an unsympathetic man.
Thomas was not only prickly, but he was also a depressive, and nursed a death wish. He would often leave Helen and their children in order to tramp around the countryside, meticulously observing nature, a habit that reflected in his poetry. He was often cruel to his family and friends, and his love of rural England, suggested by the title of the play, was also the reason he enlisted in the army — in defiance of Helen's pacifism and Frost's cynicism. As played by Pip Carter in Richard Eyre's clear and empathetic production, Thomas is frequently embarrassed and embarrassing. At one point he holds his baby with one arm while clumsily dropping a pistol with the other hand: he has just returned after a walk during which he contemplated suicide.
Dear's main themes are clear. As well as being an evocation of a traditional kind of English pastoralism, this is also a portrait of an Englishman who is uncomfortable and uncertain of his vocation. Thomas is socially awkward, yet capable of moments of almost holy simplicity. His patriotism is rooted in the same soil as his poetry. At the same time, three scenes argue that this is a play about a crisis in masculinity: in one, he cringes like a coward in front of a game-keeper; in another he is insulted by his father; in a third, Frost and Helen fight about his maleness.
On a simple staging designed by Bob Crowley (heavy soil below, cloudy skies above), the play presents several points of view about Thomas without ever resolving the contradictions between them. But despite excellent performances by Hattie Morahan (as Helen, whose bare-legged dance is a highpoint), Shaun Dooley as an optimistic and encouraging Frost, and Pandora Colin as the devoted fan Farjeon, this drama is a quiet and rather unexciting affair.
© Aleks Sierz