Teddy Ferrara, Donmar Warehouse
Wednesday 7th October 2015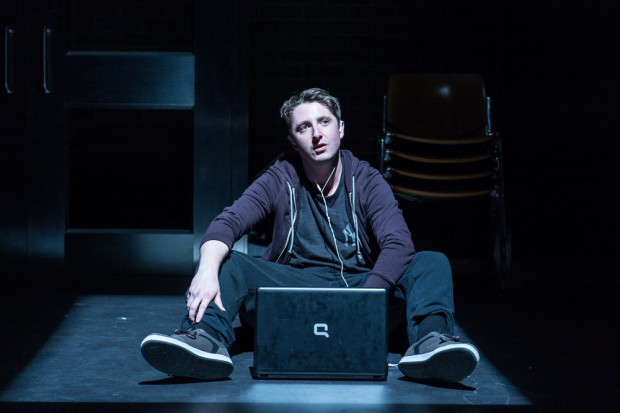 Why are most gay plays mainly about sex? Christopher Shinn's latest, Teddy Ferrara, is no exception. But perhaps it distinguishes itself by the variety of meanings it gives to sex: let's see, it shows sex as desire, sex as confusion, sex as longing, sex as power, sex as exhibitionism, sex as friendship, sex as betrayal, sex as identity, sex as commerce, sex as fun, sex as tyranny, sex as a cover for unfaithfulness… And I doubt if I've exhausted all of its meanings.
The setting is a large university somewhere in the United States. It has a strong Queer Student Group, but that doesn't mean that there is no homophobic bullying. In the previous year, one student, Kevin Gilman, has committed suicide: was this because of the university's anti-gay atmosphere? Into this febrile situation — based on the case of Tyler Clementi, a New Jersey student who killed himself in 2010 after being filmed kissing a man by his room-mate — comes Teddy Ferrara, a sexually active gay freshman who suffers from canker sores and exudes geekishness. Not unexpectedly, he suffers cyber bullying. But he is by no means merely a victim: alone in his dorm room, he logs into an internet chatroom and has online sex. Yet although the play is named after him, he is not its main focus. In fact, he's a background character.
The foreground is taken up by a gay couple, Gabe and Drew, who are young, emotionally experienced and ambitious. Gabe wants to be elected president of the student body (and is preoccupied with politics), while Drew is editor of the student newspaper (and is preoccupied with whatever might make a good story). Other characters include Tim, Gabe's ostensibly straight best friend; Nicky, Drew's fellow journalist; Jaq, a transgendered student; Jay, a student who has to use a wheelchair; plus the college president, its provost and a black campus activist.
But while this array of personalities gives the play a panoramic width, the only thing most of the characters talk about is sexual politics. On one level, this is a portrait of an enclosed community coming to terms with rapid social change, and some of the president's clumsy, crass and ill-considered speeches have an enjoyably satirical edge. On another level, it is a study of the clash between personal ambition and the exigencies of intimacy: in almost every scene there is a discussion about agency versus victimhood, truth versus lies, real feeling versus appearances. In passing Shinn glances ironically at political correctness, policies that promote diversity and the misery of student life.
There are a couple of genuinely uncomfortable scenes where Drew and Tim talk about sex, or when Jay experiences rejection because he is in a wheelchair. But this is not a play that wallows in victimhood, and all of the characters are given the chance to speak out. There are no losers, although sadness crosses the lives of most of them. At the same time, digital technologies crop up in most scenes, and almost always as disruptions of the moment, a strong metaphor for emotional distance and the fear of intimacy.
Shinn's writing captures the rhythm of undergraduate chat, and is efficiently realistic rather than resonantly individual (many of the characters' lines are interchangeable). Much of the dialogue signals its issues and ideas with a clarity that would work better in a film than it does on stage, and I was disappointed that no one seemed to have much of an inner life. In general, the story is overlong and overcomplicated, with little metaphorical depth or conclusiveness. Yeah, it kinda rambles, you know?
Still, it's hard to fault Dominic Cooke's fast-moving production, designed by Hildegard Bechtler, with fresh and convincing performances by Luke Newberry and Oliver Johnstone as Gabe and Drew, while Ryan McParland gives Teddy an affecting vulnerability. They are ably supported by Americans Christopher Imbrosciano (Jay) and Griffyn Gilligan (Jaq), with a strong showing also from Nathan Wiley (Tim), Kadiff Kirwan (Nicky), and Matthew Marsh and Nancy Crane as the president and provost. But while I agreed with most of the points made, the storytelling was too diffuse for me to really care about any of the people on stage.
© Aleks Sierz