Sweet Nothings, Young Vic
Thursday 4th March 2010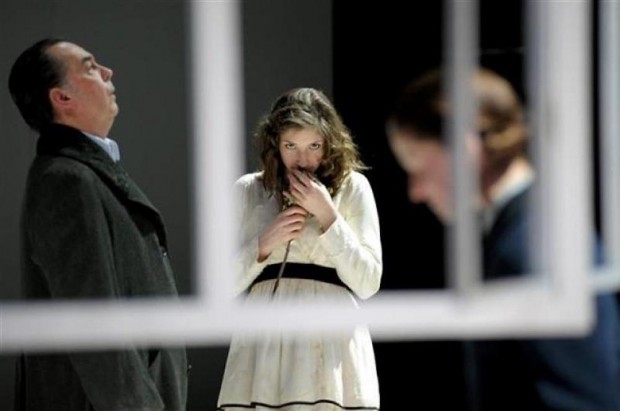 Sex, death and class — that's the world of fin-de-siècle Viennese writer Arthur Schnitzler. In this new version of his 1895 tragi-comedy, Liebelei, we are quickly ushered into a party held by the aristocratic Fritz and Theodore, who are entertaining two lower-class women, the experienced Mizi and the virginal Christine.
Luc Bondy's dazzling production serves up the opening act with the speed and finesse of a frantic polka, characterized by spontaneity and lots of drink. Under his masterly direction, the cast immediately come alive, roaming the stage, alert to each other, occasionally histrionic, often thoughtful, sometimes troubled. As they get drunk, they touch, grope, embrace; glasses are accidentally smashed, people stumble, fall into each other's arms — it all feels dangerous and real.
Staged on a slowly turning revolve, the first scene's reds and pinks give way to bright white as Act Two shifts the focus from the men to one of the women, Christine, who is infatuated with Fritz. Unknown to her, he is about to fight a duel for the sake of his true love, a married woman. After the fireworks of the first half, this one is slower, deeper, sadder, a real shift in tone.
As Bondy expertly evokes the Vienna of the 1890s, we catch a glimpse of a life of desire and self-destruction. But if the plot is pretty thin, the acting is brilliant. Jack Laskey's Theodore is raffish and ebullient while Tom Hughes's Fritz is vain and cowardly. Equally well contrasted are Natalie Dormer's flirtatious Mizi and Kate Burdette's melancholy Christine. Remarkably, this is Hughes's professional debut, and Dormer's first time on stage.
David Harrower's translation is excellent, proving that he is one of our best adaptors of foreign plays. With Karl-Ernst Herrmann's vivid design, and solid acting support from Hayley Carmichael as a neighbour and David Sibley as Catherine's father, this feels like the most thrilling revival on the London stage. Sweet Nothings is really something!
© Aleks Sierz