Single Spies, Richmond Theatre
Tuesday 1st March 2016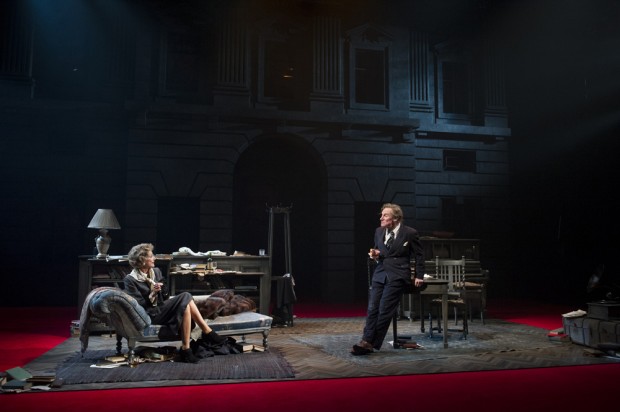 There is nothing quite so English as the Cambridge spy ring of the 1930s; there is no one quite so English as playwright Alan Bennett. Put them together and you have Single Spies — a 1988 double bill of two plays about Englishmen who spied for the Soviet Union — now being revived by Rachel Kavanaugh in a co-production between the Birmingham Rep and the Chichester Festival. So what happens when a national treasure (Bennett) takes a look at a national scandal? Although the two plays — An Englishman Abroad and A Question of Attribution — only feature two of the Cambridge Five, it's important to remember the historical context of this story of deception and betrayal.
In the 1930s, a group of idealistic and privileged Cambridge students were so appalled at the rise of fascists such as Hitler, Mussolini and Franco in Europe, and at the carnage of the Civil War in Spain, that they joined the Communist Party or became active party sympathizers. In their eyes, with the British government appeasing Hitler, only the Soviet Union offered resistance to the spread of fascism. When the second world war broke out, they must have felt vindicated: in 1941 the Soviet Union became an ally of the West — and its troops were instrumental in the defeat of Nazi Germany. By then, however, the five — Kim Philby, Donald Maclean, Guy Burgess, Anthony Blunt and John Cairncross — were deep inside the British Establishment, busy passing state secrets to the Soviets. As the 1940s turned into the 1950s, they continued their work even though it was becoming clearer by the year that Stalin's USSR was as great a threat to freedom and democracy as Hitler and the fascists. But by then it was too late: the Cambridge spies were ideologically as well as practically committed to the wrong side of the Cold War. When threatened with exposure, the most compromised spies defected to Moscow. And hated life under Russian Communism.
Bennett relates two incidents in this bigger story: in An Englishman Abroad he retells the true story of Burgess's meeting in Moscow with Australian actress Coral Browne in 1958. In A Question of Attribution, he invents a charming, highly intelligent and witty conversation between Sir Anthony Blunt, who rose through the Establishment to become Surveyor of the Queen's Pictures, and Her Majesty some time in the late 1960s. Although the first play is much the slighter of the pair, together they make up a rather sedentary double bill which does however occasionally spark with insights into the questions of Englishness, fakery and betrayal.
In An Englishman Abroad, Bennett revisits the terrain of his own 1977 play, The Old Country, which was based on Kim Philby's time living in Soviet Russia after his defection in 1963. Like Philby, Burgess comes across not so much as a traitor as an exile, someone who misses everything about upper-class English life in London. As played by Nicholas Farrell, he is composed of three parts battered charm to two parts resentful prig, with a dash of sardonic bitters thrown in. Although this portrait of a washed-up failure, spending his days listening to Jack Buchanan singing "Who stole my heart away?" and begging his rare visitors from abroad to order yet more suits from his Savile Row tailor, should be moving it comes across as a bit too cool here. And that despite Belinda Lang's icy-tongued turn as Coral Browne.
Much better is A Question of Attribution. Not only is this play much better written, with sparkly phrases and witty insights in almost every line, but also the predicament of Anthony Blunt, a man who spent his life concealing both his homosexuality and his political allegiance to the Soviets, while at the same time appearing to be a pillar of the Establishment, is genuinely moving. Bennett's portrait of Her Majesty is likewise humorous, challenging our prejudice that she is an ignorant philistine by inventing a brilliant conversation in which the pair fence around ideas about fakes, deception and truth — which could apply as much to spying as to the history of art. If Lang is here a bit less stiffly regal than she should be, David Robb (familiar as the doctor from Downton Abbey) is excellent as Blunt.
Kavanaugh's touring production has a magnificently stately set by Peter McKintosh that amplifies the isolation and loneliness of both Burgess and Blunt, while the huge portraits of Stalin that greet the audience as it arrives are enough of a chilling reminder of how wrong-headed the Cambridge spies were. Single Spies is a very enjoyable if not exactly thrilling hardy perennial whose twin stories remind us of how prickly the subject of national identity can be in all its connotations of class, sexuality and loyalty. As the EU Referendum campaigns get under way, this also resonates with the contemporary world.
© Aleks Sierz