Saxon Court, Southwark Playhouse
Monday 24th November 2014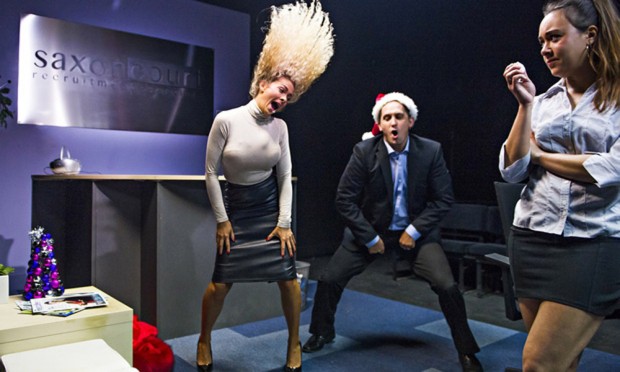 Seasonal Christmas plays have, in recent years, become more critical. And more vicious. Instead of broadly celebratory comedies, perfect for fat bellies and burping stomachs, they tend to have a more acidic effect: they are often satires that vomit all over the clichés of the season's happy silliness. That's okay, I suppose, but only if they are really well done (as exemplified by Martin Crimp, or Anthony Neilson). Otherwise, they are as annoying as a card that says, "Yo, ho, ho" and plays "Jingle Bells".
Playwright Daniel Andersen's debut Saxon Court at the Southwark Playhouse is a classic anti-seasonal entertainment. It is, I admit, based on a good idea: an Yuletide office-set play about a City of London recruitment agency. As protestors from the Occupy movement chant slogans outside, Saxon Court's boss, Donna, a self-made woman whose right-wing opinions make Margaret Thatcher seem cuddly, faces the 2011 Christmas season with a determination to slim down her workforce.
With business falling as the financial crisis intensifies, her staff now have job insecurity to add to their personal problems. City wide-boy Joey and his wife are trying for a baby, blonde big-hair Tash has had a boob job that went wrong, university dropout Noel doesn't get on with his parents, discontented young Nat is looking for Mr Right, and eccentric Mervyn only thinks about his young son. As in any episode of The Apprentice, Donna must fire one of her team. Business is down and the bottom line dictates tough measures. Okay, it's formulaic, but still.
So as the office is polluted by the rank smells of a blocked toilet (as heavy-handed a metaphor for a failing capitalist system as you can imagine) Andersen chooses to indulge his love of vulgar humour and create a sitcom rather than explore the potential of his material. The result is a short, but tedious evening, unless you really like scatalogical jokes and relentless, and boy do I mean relentless, clowning. So puerile. A lot of the humour is just sexist, definitely not ironic, and the opinions so loudly voiced by Donna — the poor are just lazy and anyone can get a job if they really want to work — are pure right-wing conservatism. And they remain unchallenged by any of the other characters.
This raises a potentially interesting question. For many years, British theatre has voiced a desire for more right-wing plays. After all, theatre is a fairly liberal profession and most political plays are progressive because, like Jack Thorne's Hope, they advocate a change in the status quo. But the problem is that although Andersen's drama would qualify as a right-wing play, it is simply too poorly written, too repetitive and too clichéd to solicit much sympathy for its damaged characters. Instead, we get a lot of juvenile banter and a lot of slapstick. The bad language and the vulgarity rapidly become a strain to endure, and — despite trying my best — I really couldn't see any redeeming features in the story.
Directed by Melanie Spencer as a jolly seasonal sitcom, the play fails to shine any light into the dark corners that it hints at, despite the best efforts of a hardworking cast: Debra Baker as the rasping boss Donna, backed up by John Pickard (Joey), Adam Brown (Mervyn), Alice Franklin (Tash), Scott Hazell (Noel) and Sophie Ellerby (Nat). This subject matter is right, but the drama fails as a political play. Why does this annoy me so much? Because it feels like a wasted opportunity as well as a wasted evening.
© Aleks Sierz