Reasons To Be Pretty, Almeida Theatre
Thursday 17th November 2011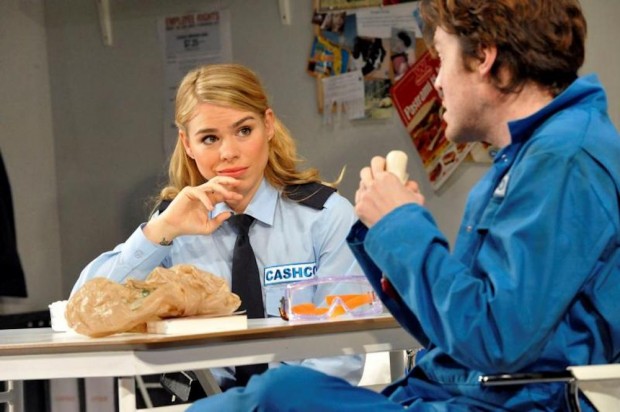 The interface between reality and fiction sometimes leads to last-minute alterations. For example, this Tony Award-nominated play, Reasons To Be Pretty, gets its UK premiere amid the news that its star lead, Billie Piper, is pregnant with her second child, and since this will become more visible during the run, American playwright Neil LaBute has rewritten a couple of lines. But because Piper's character, Carly, is expecting in the original version of the play, the alterations have been minor.
Set in Mid-West America, bad boy LaBute's play kicks off when warehouse worker Greg makes an offhand comment about his girlfriend Steph being no beauty, and she goes ballistic. Meanwhile, Greg's best friend and workmate Kent boasts about his gorgeous wife, Carly, but has the hots for any young woman he meets. Can Greg survive Steph's anger — and will he cover up for Kent?
LaBute's writing has a dynamic energy that is very exciting, even though he displays a disturbing relish for the brutality of men and the humiliation of women. But, having seen many of his previous plays, this is no surprise. In fact, we expect his work to appall us! Gradually, the play's big themes — our perception of beauty and the conventions of attractiveness — come at you as if refracted in one of those condensation-covered bathroom mirrors which never make you look any good.
But if his women are angry, unpredictable, changeable or suspicious, his men are selfish, secretive, bullying or childish. Only Greg — clearly LaBute's favourite — gets the chance to develop into a grown-up adult. Reasons To Be Pretty is the final part of a trilogy about our obsession with looks, following The Shape of Things (Almeida, 2001) and Fat Pig (West End, 2008).
Sharply directed by Michael Attenborough, on Soutra Gilmour's smart container-based set, the play has two outstanding performances. Siân Brooke's Steph is amazing, at one point spitting angry barbs, at another touchingly vulnerable. Likewise, Tom Burke's Greg starts off with boyish naivety and grows into maturity in front of our eyes. Piper has an easier role as the troubled security guard Carly and Kieran Bew's Kent is perfectly macho. This is an evening of provocative playwriting and sharp acting — but be prepared to argue about the experience, who's right and who's wrong, long after you've left the show.
© Aleks Sierz